Move your mouse over the photos below to enlarge them.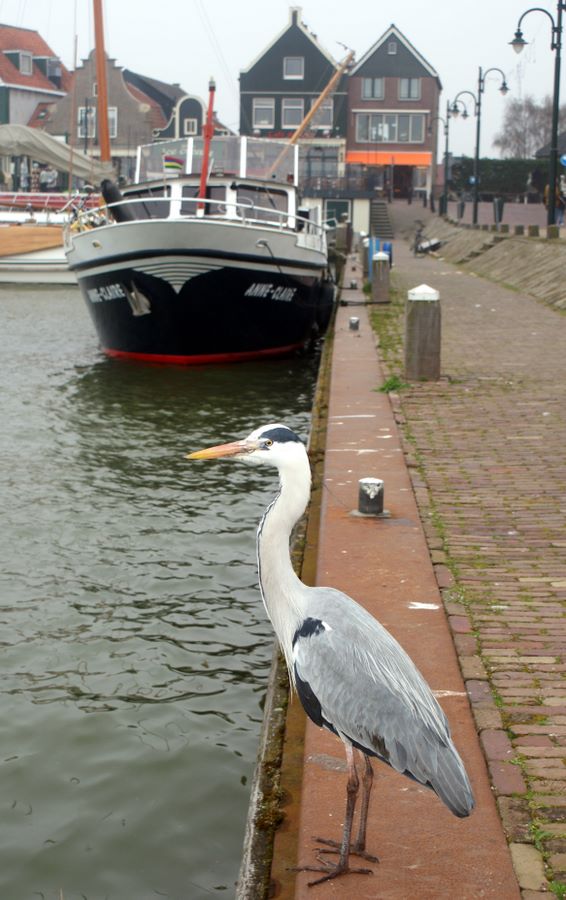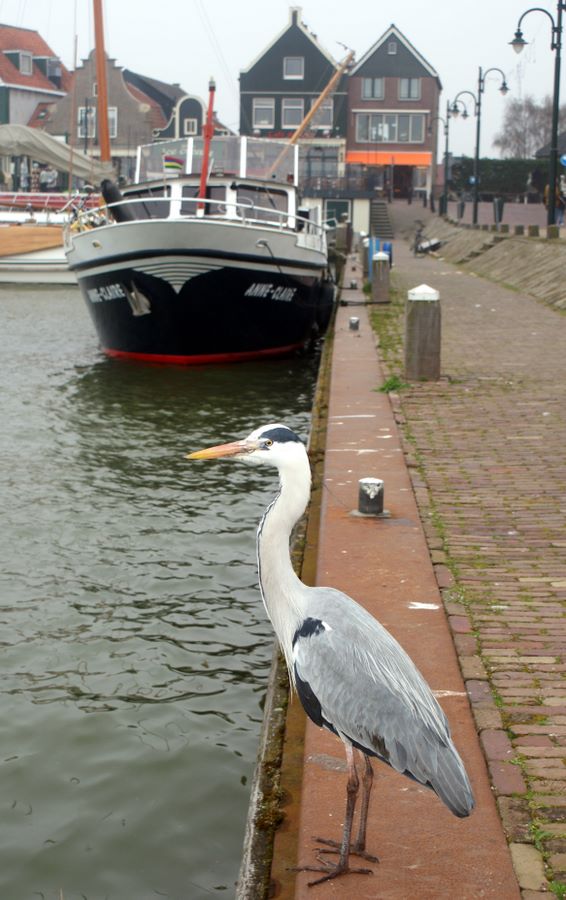 A heron on the wall at Volendam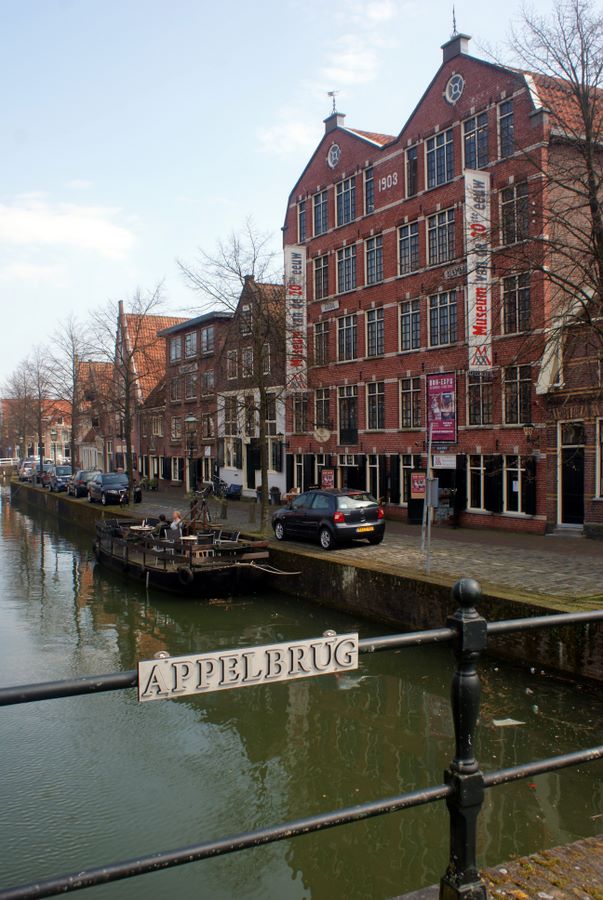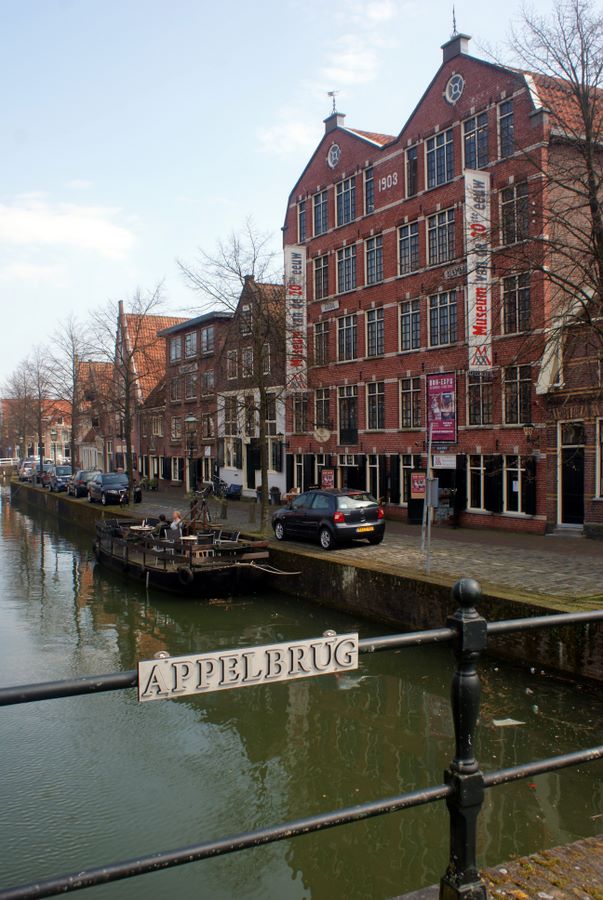 Old warehouse in Hoorn converted for modern use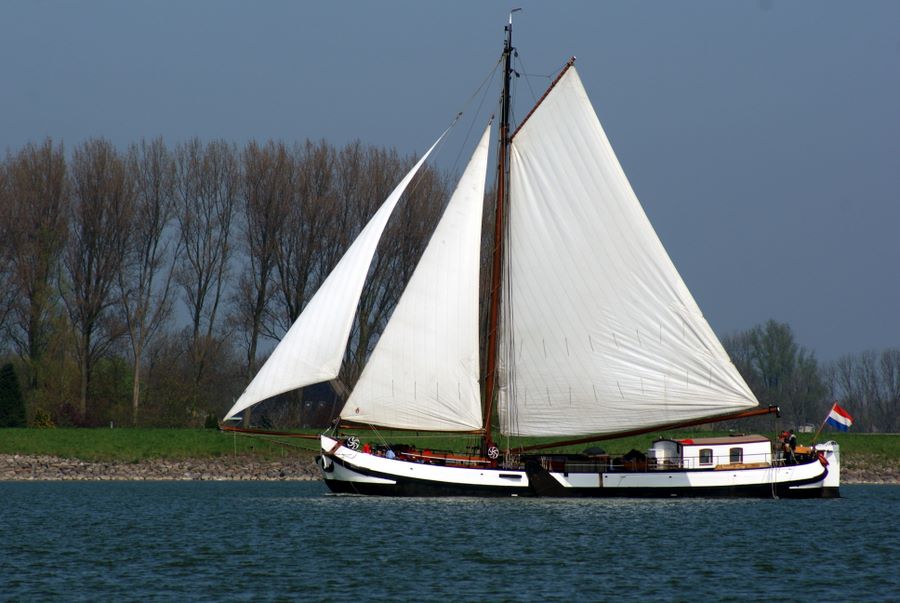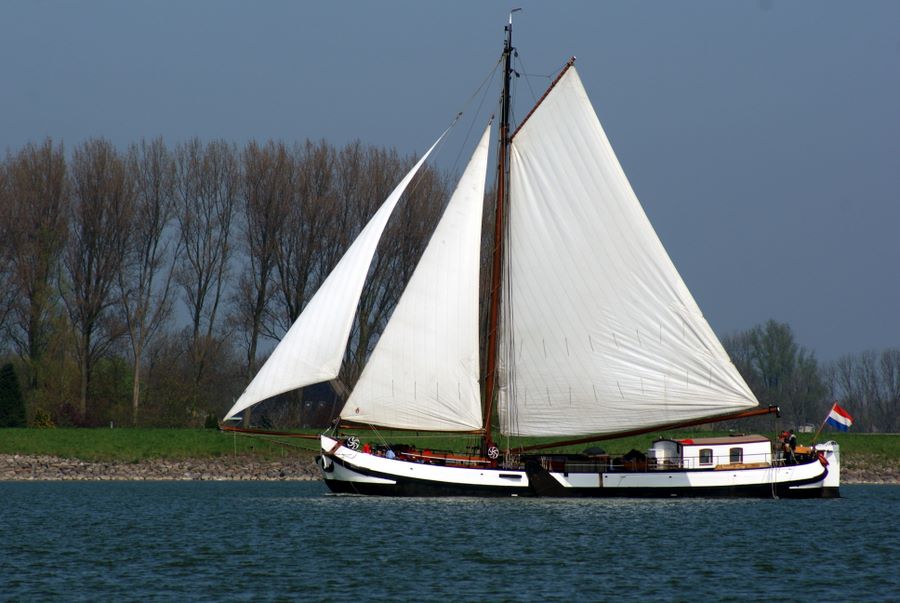 Classic Dutch shallow-draft sailing barge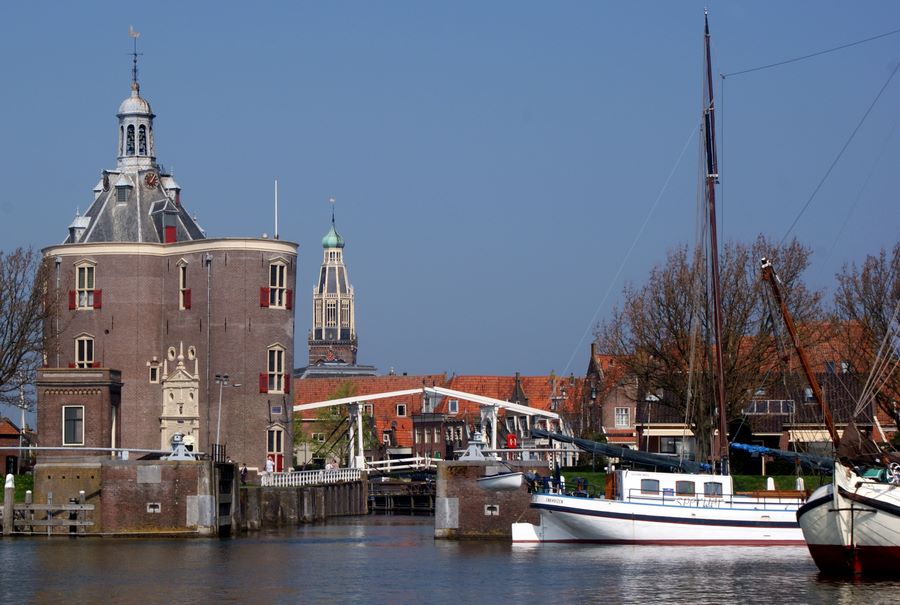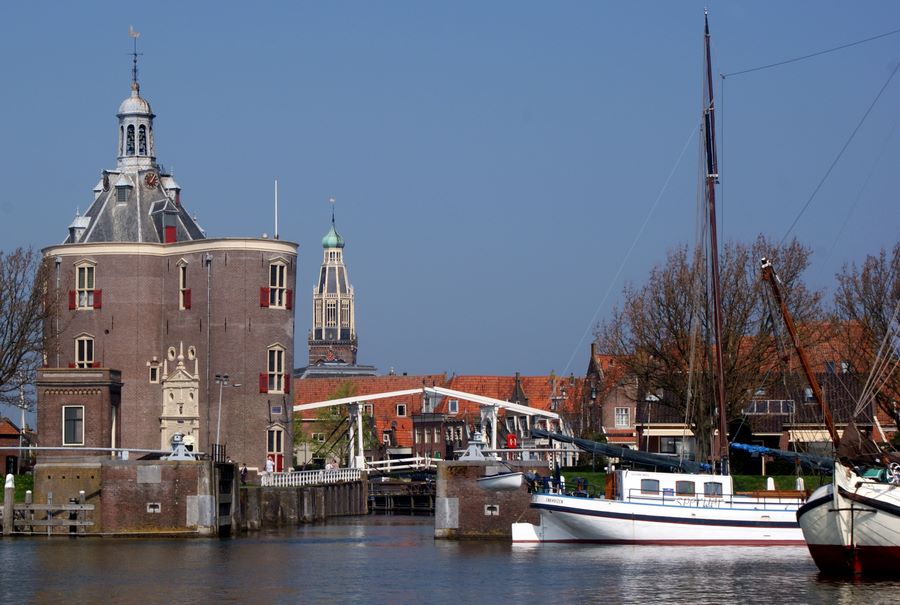 Enkhuizen water tower and harbor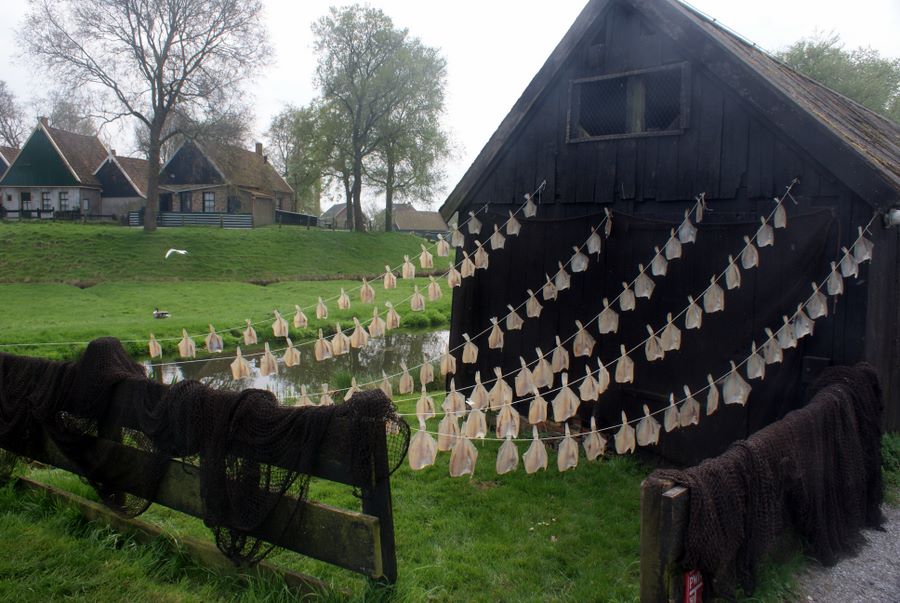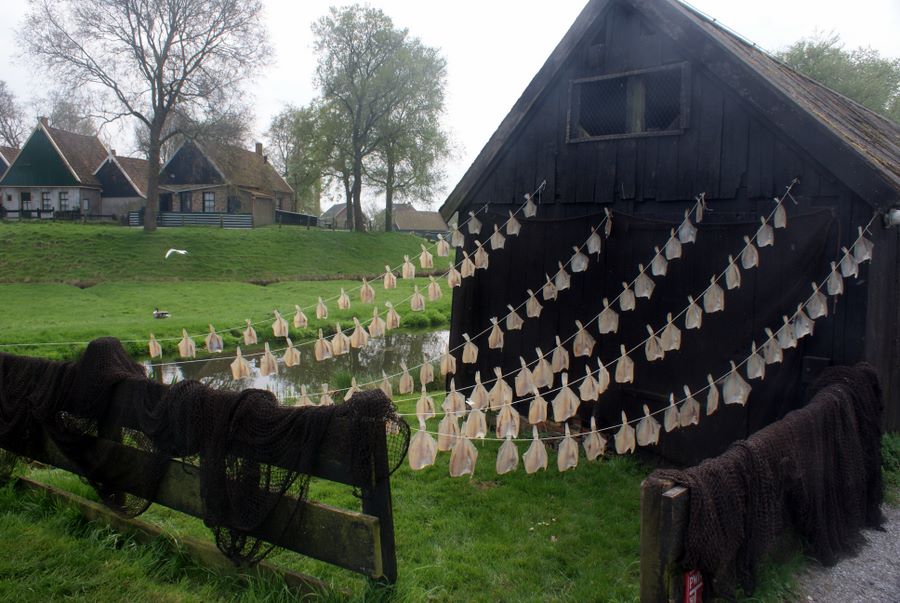 Fish drying demonstration at the Zuiderzee Museum in Enkhuizen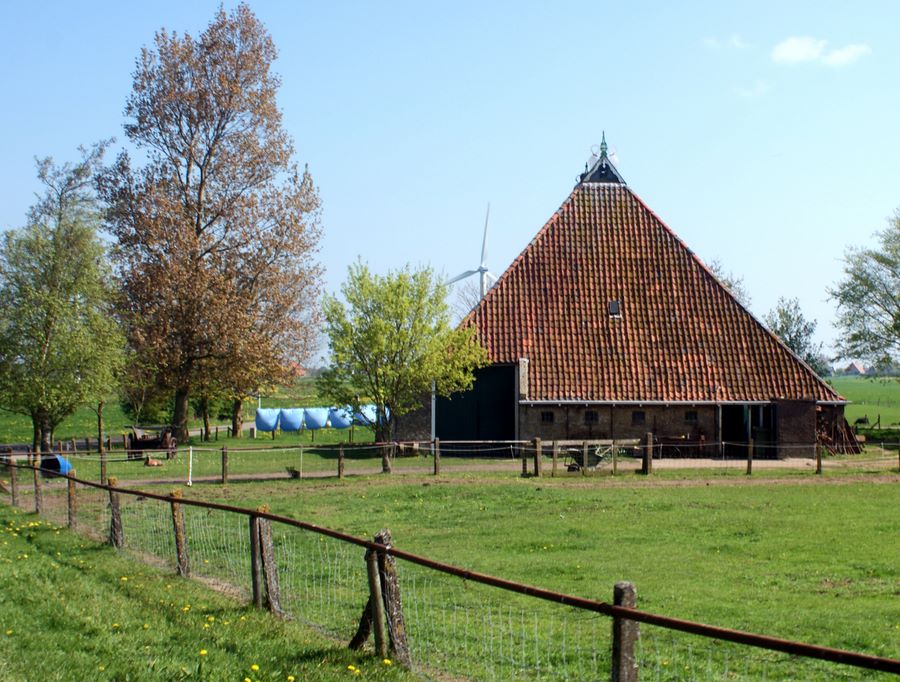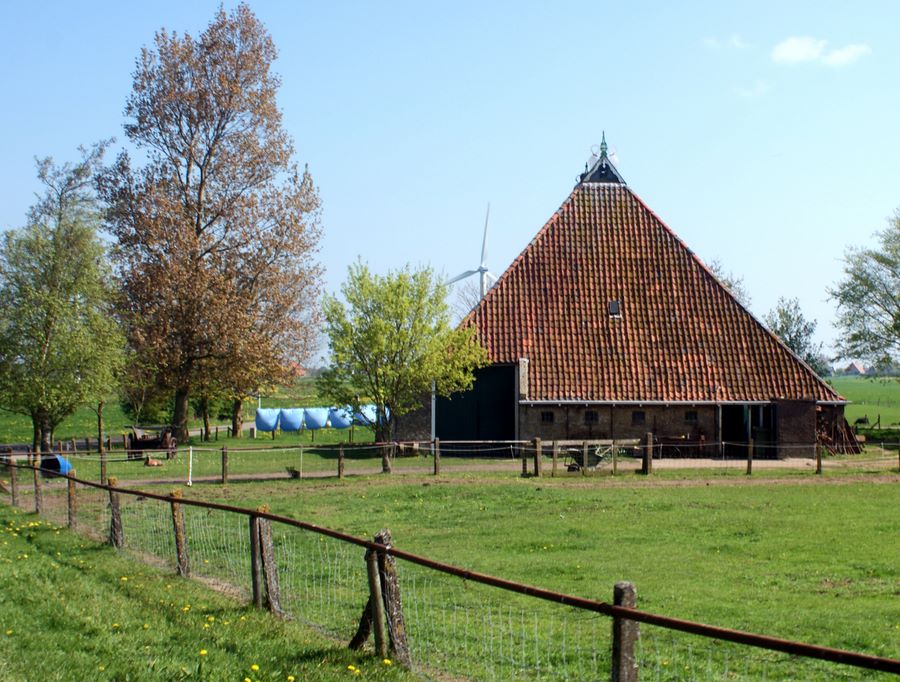 Farm on the other side of the dike form Stavoren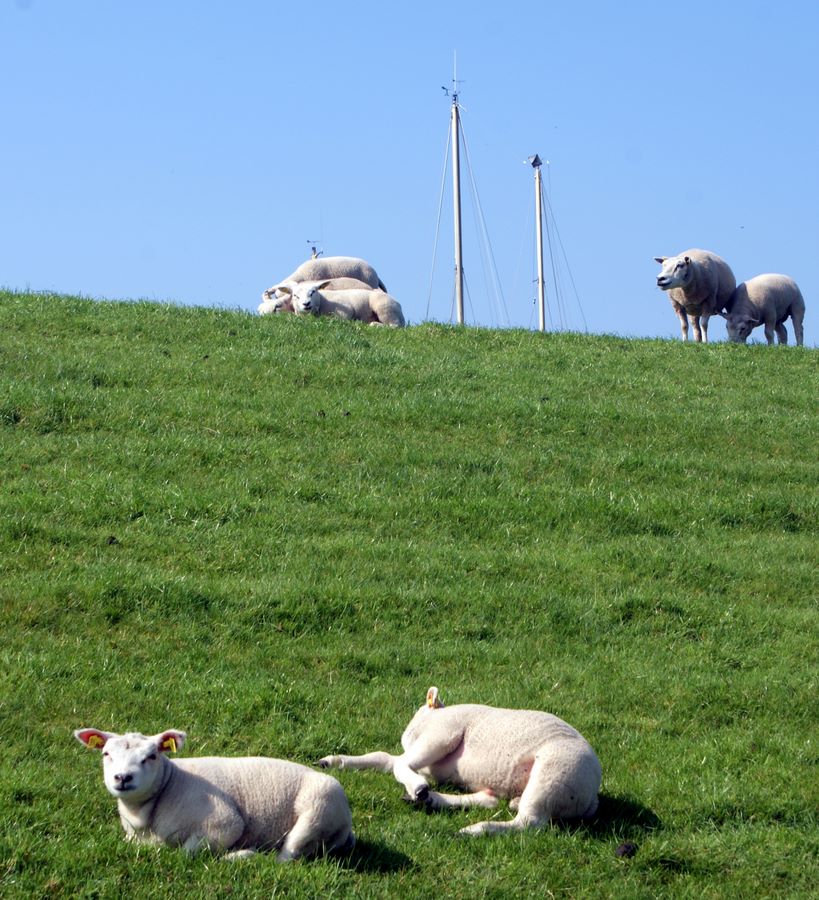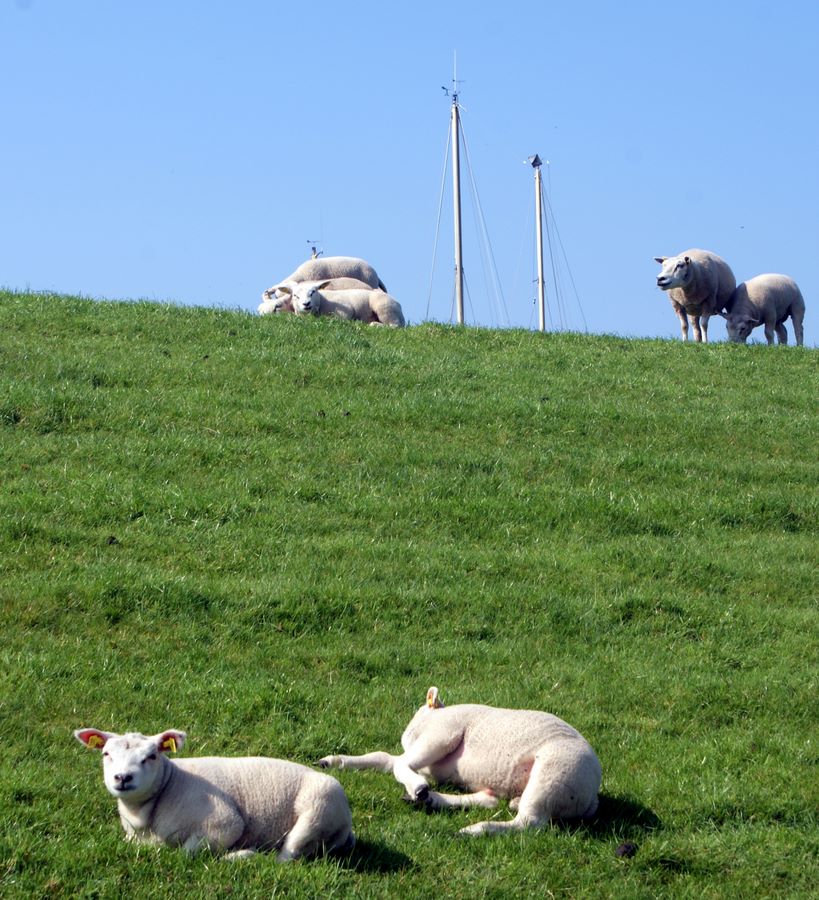 Sheep grazing the dike with masts from the marina in the backgorund, Stavoren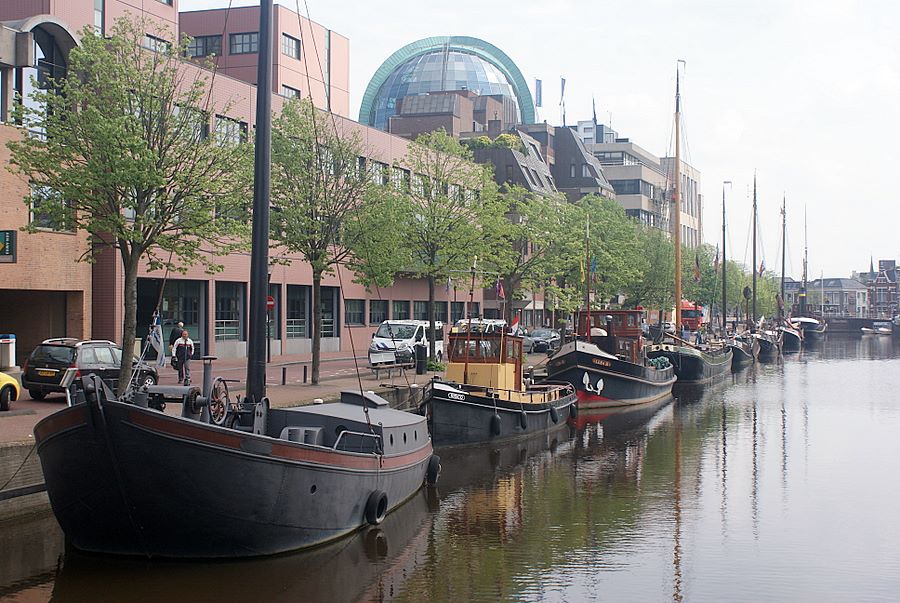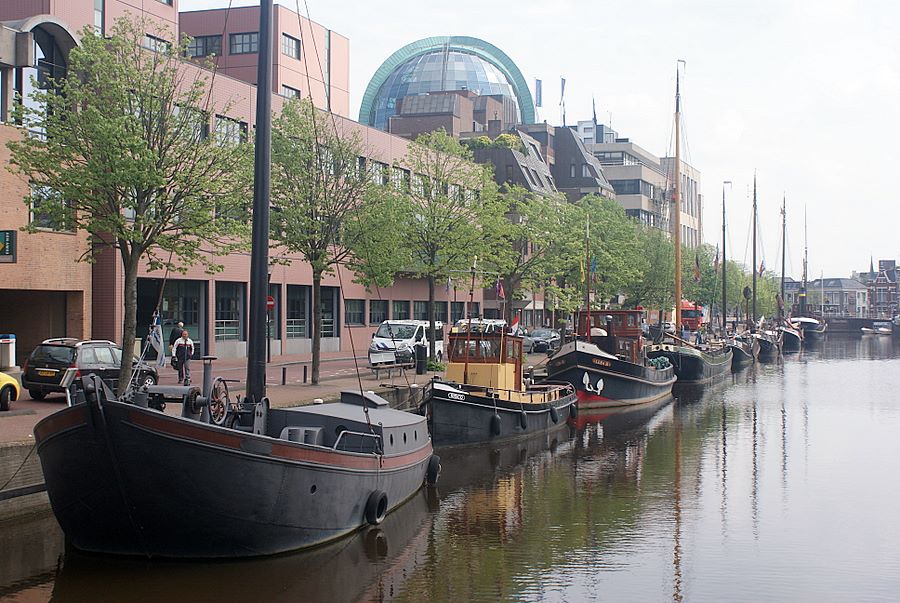 Leeuwarden: old ships and modern buildings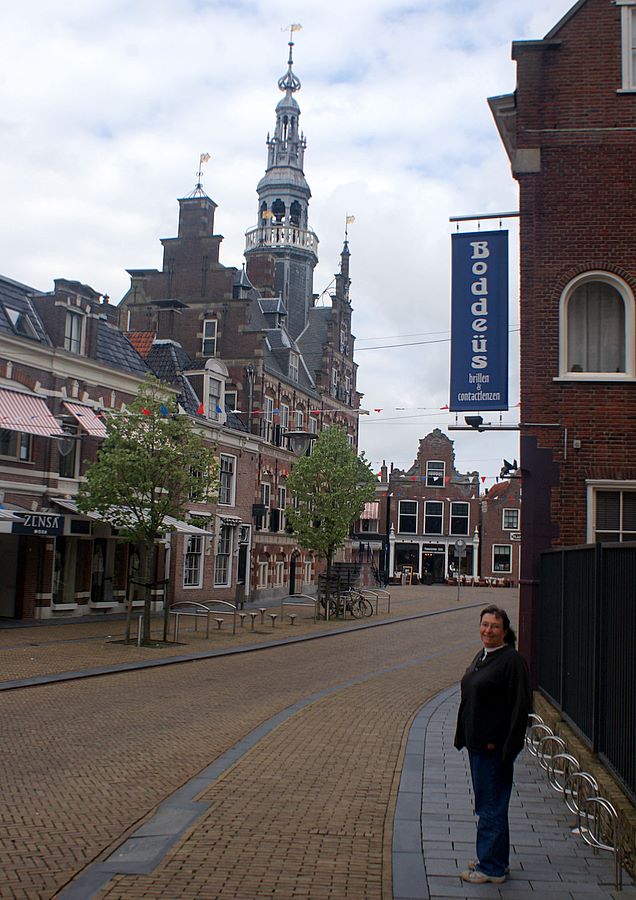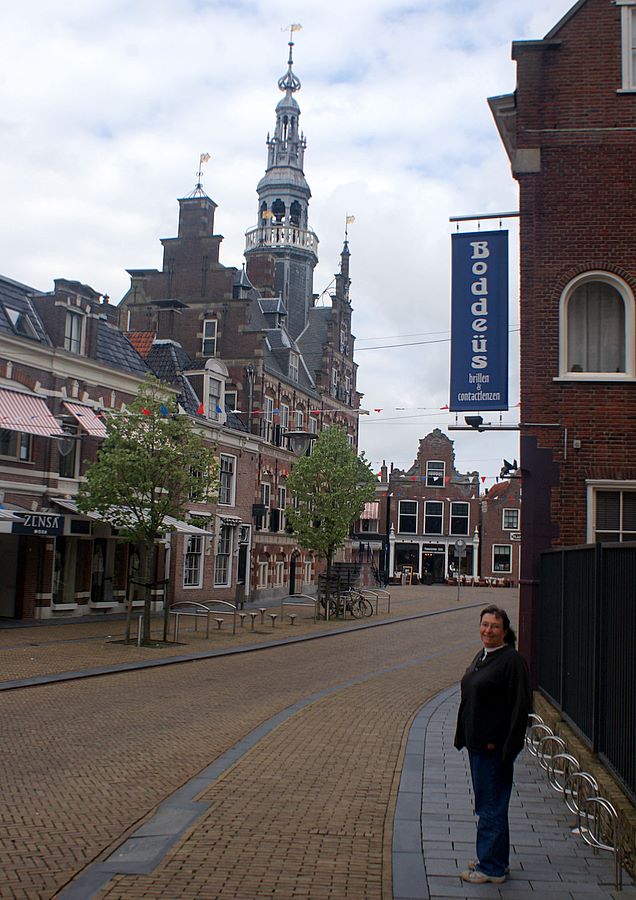 Downtown Franeker: some places change slowly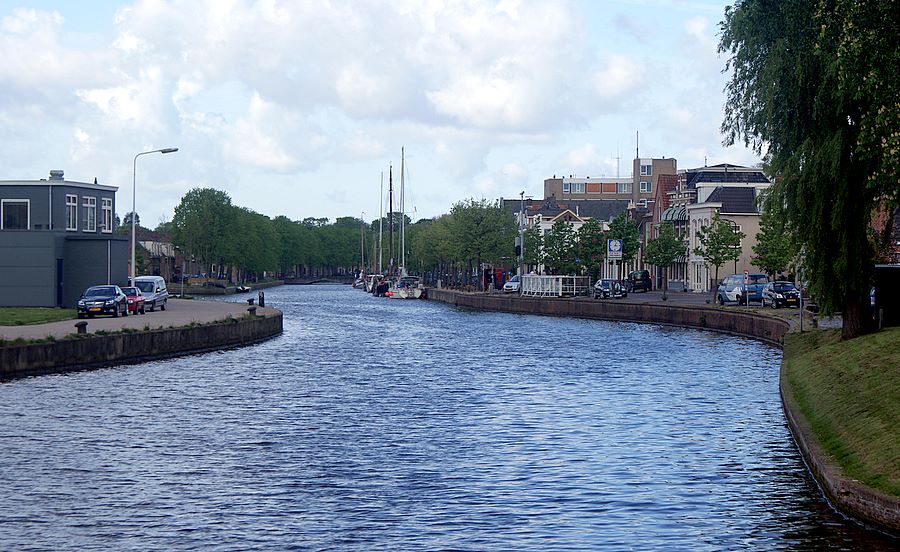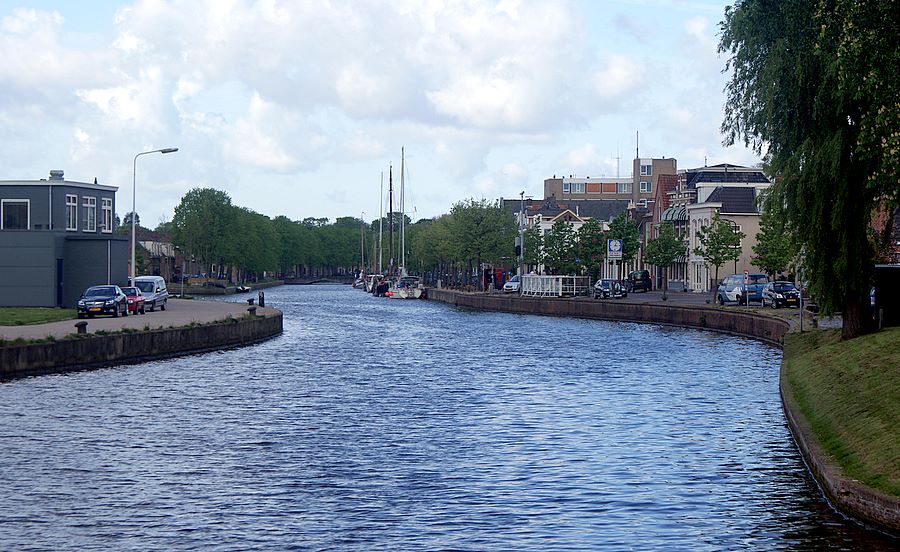 Solstice on the wall at Franeker
Letter published in SSCA Commodores' Bulletin, February 2011
Cruising in the Netherlands 2009
With April 1st the rates at the marina in Amsterdam where we spent the winter were doubling, and the salon boats that spend the summer there were due to return, so we left. It was still too early, we felt, to head into the Baltic, so we lingered in the Netherlands. Then we stopped again on our way by in July.
Guides, charts, online resources and general information
Imray Cruising Guide to the Netherlands by Brian Navin. This guide is fairly sketchy, but it was the only one we knew of at the time in English. We used it only for general planning since it didn't really have details. Another Imray publication, we have since learned, is Inland Waterways of the Netherlands by Louise Busby & David Broad. It might be better, but we haven't seen it.
ANWB Watersport Wateralmanak volumes 1 and 2. Volume 1 (the regulations) is required on board boats in Dutch waters, but no one ever asked us for it. Volume 2 includes useful information about marinas and services. Although it's in Dutch, it uses lots of symbols and has a key in English.
Dutch charts by the Netherlands Hydrographic Office are excellent and updated annually. We used our Navionics electronic charts in the North Sea, but carried paper charts for back-up and relied on paper for the Markermeer, IJsselmeer and Waddensee. For the Frisian canals, we used the ANWB Waterkaart B Friesland, which we were able to buy at a Dutch chandlery. ANWB, which is something like AAA in the States, also publishes an atlas for the standing mast route that we hear is excellent and usable even if you don't know Dutch.
The Dutch public transportation system is excellent, and you can get almost anywhere on it. They have an English version of their online route planner at journeyplanner.9292.nl/, but try the "Nederlands" version if you can't find what you need. They don't always translate everything. And be prepared to pay cash! The Dutch have an electronic money system (PIN or CHIP), but it requires a Dutch bank account. Credit cards aren't commonly used.
If you like museums and plan to spend some time in the Netherlands, we highly recommend the Museum Jaarkaart (Museum Year Card, www.museumjaarkaart.nl/). You can purchase it at any of museums that participate (and most do) for about 35€ each. Although we didn't buy ours until March (because that's when we found out about it), we more than got our money's worth from it.
The Dutch often charge extra for water and electricity, and the showers are often metered as well. Rates and method of payment vary. Meter boxes that take 50 euro cent coins are common, but so are card keys and fobs. There is talk of standardizing on one system, but we didn't see any evidence that it was happening yet. Wireless Internet is usually available at an additional charge, but we were sometimes able to find open routers. There are a couple of Wi-Fi companies that provide service to multiple marinas. Using a USB modem in the Netherlands may be possible, but we didn't find it necessary and didn't investigate it.
Formalities
The Marechausee (a Dutch customs/coast guard hybrid) may board at any time. No check-in is required once you're within the Schengen countries. Procedures may differ if you are coming from the U.K., but didn't seem to. British boats didn't fly the Q flag on arrival at IJmuiden although the Imray guide said they should.
Places we visited
Muiden
This town on the Markermeer (sometimes this part is called the IJmeer) is three bridge openings, one lock, and about eight nautical miles from our berth at Marina Westerdok, Amsterdam. Our lock and docking techniques weren't perfect, but we didn't embarrass ourselves or hit anything at the Oranjesluis, so it's all good, as John says.
Muiden is a pretty town. Its main attractions are water sports facilities and an old castle, Muiderslot. The castle is closed on Mondays. Our museum cards got us free admission, including a guided tour of the 17th century interior where P. C. Hooft, a famous-to-the-Dutch writer and historian, lived. The medieval parts of the castle are open without a guide and have many displays, most oriented toward children. On Tuesdays they do a falconry demonstration. All in all, if we had paid the 11€ per person admission, we would have been disappointed, but it was fun for free.
We had a nice view of the exterior of the castle from our cockpit in the Royal Yacht Club marina (KNZNV) across the river Vecht. Our stay at Muiden was pleasant, albeit very quiet after living in Amsterdam for seven months. The Internet at the harbor was quite expensive at almost 10 euro cents per minute.
Volendam
Next stop was Volendam. Famous as something of a tourist trap, the town did have busloads of tourists from all countries arriving off and on all day, but it was also very picturesque.
Docking in Volendam was a bit of a challenge. We opted to tie up to the wall in the main harbor rather than going to the marina outside of town. We had originally planned to finesse our landing by throwing the stern line around a cleat and continuing forward to bring us to the wall. Instead of cleats, though, there were pilings, and they were six feet or more from the water. You just never know what you're going to find in a strange port. We never found Internet in Volendam except at a restaurant. Electricity is metered and the box requires 50-cent pieces. There are showers and toilets in a white building below the street that runs along the harbor.
Hoorn
Almost five years after we first visited Hoorn on a bareboat charter, we returned to the Binnenhaven (inner harbor). What a difference! Then it was quiet, and there was no problem finding a place at the wall. This time the harbor was completely full of boats. We were rafted up four deep and were lucky to be the second boat from the shore. As we walked around the harbor, we saw no boats less than three deep and several were five deep. It was only April, not even summer yet, but it was the long Easter weekend, so maybe that's why it was so crowded.
We visited two museums, thanks to our museum card. Hoorn was one of the major ports of the Dutch East Indies Company and has a rich history. In addition to the museums, it boosts a huge outdoor market, which we found by following the crowds. We found open wireless Internet on the boat in the Binnenhaven, but it was weak and we lost the signal frequently. To get good wireless Internet, we walked through the park over to the WSV Hoorn (WSV stands for watersportvereniging or water sports club) and paid for some Wi-Fi minutes (pronounced wee-fee throughout Northern Europe). WSV Hoorn also has some space for visitors, which the Dutch call passanten.
At Hoorn fuel is available from a barge in the outer harbor. Showers and laundry for the Binnenhaven are in the back of a small grocery store. Just ask the Dutch neighbors for directions. The Dutch almost all speak English, but the Germans who also fill the harbor often don't.
Enkhuizen
Enkhuizen is a short sail from Hoorn, but the two are separated by the lock between the Markermeer where Hoorn is and the IJsselmeer where Enkhuizen is. The don't-miss attraction here is the Zuider Zee Museum (in Dutch that's actually all one word). It has an indoor museum and an outdoor live historical one. The indoor museum is good, but the outdoor one is really great. It has heirloom livestock (breeds that were almost extinct), craftsmen plying antique trades such as barrel making, and old buildings from elsewhere in the Netherlands that were spared demolition during redevelopment by moving them to the museum. It was especially fun for us to see a couple of buildings from the Haarlemmer Houttuinen, near our neighborhood in Amsterdam. We even got a ride in a flat-bottomed boat that one of the museum workers poled through the canals as he pointed out the sights. And we got a free ferry ride from the museum to near our boat the first day and back again the next. We're always up for a boat ride, and there was too much to absorb in one day.
In Enkhuizen we docked in the old harbor rather than in a marina. The local chandlery is near a marina by the outdoor museum. That's where we picked up our chart of the Frisian canals.
Stavoren
We chose Stavoren as the place to enter the Frisian canals because it has a large marina outside the canals that uses the same wireless Internet provider as Enkhuizen, and we still had days left on our fee-for-service plan. It's also a nice, short sail away, only 23 km. The IJsselmeer was covered with sailboats on the sunny Sunday afternoon when we crossed it. It was quite a sight to behold.
We didn't find a museum in Stavoren, but we rented a bike from the marina to go with the one we already had and set off into the countryside. I wanted to ride along the top of the dike, but the road was at the bottom of it and sheep pasture was on the top. Those lambs have a nice view. We found Rode Klif (red cliff), site of a famous battle between the Frisian and the Dutch. The Frisians won that round, and Willem the something-or-other was killed in battle at Stavoren. We also found a little cemetery where three Australians and a couple of Brits who died in WWII were buried.
It's a little bit of a hike into town from the marina for groceries and the chandlery. The marina rates are reasonable, only a little higher than we paid in Enkhuizen, but electricity, water and shore showers are included, and that makes up for the price difference.
Sneek
Sneek (pronounced like English "snake," but Dutch for snake is "slang," so there's no confusion) is about five hours, including one lock and three bridges, from Stavoren. Two or three bridges have been replaced by aqueducts taking the canal over the highway. With our 1.86 meter draft (6'1"), we touched bottom softly a few times (three to be exact) on the way. Although the channels are dredged, it's often shallower near the sides of the canals.
Sneek looks much newer than other towns we visited, but it was chartered in 1456, so it's old enough. The historical center that has been preserved is small, but it's a pleasant town. Although we did go look at the Waterpoort (water gate) and visited the maritime museum, which was pretty good, other than that we didn't find much to see there. We lingered in Sneek because it wasn't expensive and we had free wireless Internet from an unlocked router in the area.
Leeuwarden
We expected it to take us about five hours to get from Sneek to Leeuwarden, and that's what it should have taken. However, when we got close to Leeuwarden, we saw a big yellow sign by the canal indicating that the standing mast route to Leeuwarden was via some canals that I thought were too shallow for us. We ignored that sign reasoning that the Prinses Margrietkanaal (Princess Margriet Canal), which we were in, went to Grongingen and on to Germany, so we would just go the way we had planned. Then we saw another sign saying that the bridge we needed (the Fonejachtbrug) was closed to small vessels. According to the regs, that's us. When we saw the Fonejachtbrug in the distance, there were no other sailboats in sight, so we decided to go ask at the yacht harbor back at the designated standing mast route.
We touched bottom lightly getting into the canal, but we were getting used to that. Then we grounded again at the yacht harbor fuel dock. But finally we found people to talk with, and they assured us that the canals were a minimum of 1.9 meters deep if we stayed in the middle, so we decided to try it.
The detour was very picturesque, taking us through one village and past another, through a couple of drawbridges (one collected a toll by means of a wooden shoe on the end of a fishing line), past farms with pretty farmhouses, and finally over the freeway on an aqueduct to join the Van Harinxmakanaal just southeast of Leeuwarden, which was back on our planned route. At that point, there were eight bridges between us and the town wall at Leeuwarden.
It was just before 4 p.m. when we reached the first bridge. As I read the schedule, we had until 4:15 when the bridges would close for an hour and then reopen until 7 p.m. Suddenly, the lights on the bridge switched from one red to two reds instead of the red over green that means that they're going to open the bridge. I was annoyed, but John said we would just tie up at the waiting area and wait. (Almost all bridges have waiting areas where you can tie for free. Some are linked to land; this one wasn't.) When I re-checked the schedule, I saw that some exceptions to the general schedule were listed on another page. Sure enough, the bridge we were facing (and all of the rest between us and Leeuwarden) closed at 4 p.m. for two hours, reopening at 6 for only one hour—not enough time to get through all of the rest of the bridges. Doing the eight bridges (one is always open) the next morning was fun, and John made a video of them. The last one is the first of a series through the main part of Leeuwarden, and they collect a toll, again via a wooden shoe.
Leeuwarden is a major city, the capital of Friesland, with several museums and lots of things to do. Electricity is charged separate from the mooring fee for the wall, but we got free water although we heard from a boat that followed us a few days later that they had to pay for water. That other boat also had two-meter draft and used the Fonejactbrug. Opening hours are very limited.
Franeker
The major attraction of this little town between Leeuwarden and Harlingen is the oldest functioning planetarium in the world. We figured it was worth a stop. We arrived Saturday afternoon after six bridge openings—three to get back out of Leeuwarden and three that were new to us—and tied up to the wall at the entrance to a side canal just past the last bridge. The electrical hook-ups require 50-cent pieces, so we used that as an excuse to check out town and find a pub to get change.
I was concerned that the wakes from weekday barge traffic would be uncomfortable. As it turned out, they're much less obnoxious than the passing motor yachts, especially the ones who are racing to catch the bridge before it closes for lunch or dinner. We took the train to Harlingen to check out marinas and see the town. Rates in Harlingen are significantly higher than the 10€/night that we paid in Franeker with an open wireless Internet hotspot nearby. So we decided to stay in Franeker until we were ready to leave for Terschelling later in the week or whenever we got favorable wind.
While we were waiting for weather, our generator failed. We were lucky that we tried it while we were there in Franeker because the Wateralmanak showed us a boat builder in town who got the generator rebuilt for us. He also priced replacing it, but that was 10,000€, so we opted for the rebuild.
Terschelling
It's about 26 nautical miles, four bridges, and a lock from Franeker to Terschelling. At Harlingen you enter the tidal Waddensee, so you have to time your passage to minimize adverse current. We were sailing under jib alone making more than 6 knots when Dutch customs (Marechausee) officers showed up in an RIB asking to board us. The only possible answer is yes. It was our first boarding at sea, a fact which is probably amazing to our friends who were boarded numerous times in Mexico alone. Everything was going great until they asked if we had any guns aboard. First we said no, which to our minds was true, but then John mentioned the air/pellet gun, and they wanted to see it. It's really just a toy that we've used to try to scare hitchhiking birds off the top of our mast, without success I must add. But in the Netherlands, it isn't legal, and they had to confiscate it. (The French customs agents laughed and said never mind when we showed it to them. There are different laws in different countries within the E.U., just as there are differences between states in the U.S.) The customs agents dropped by the boat after we docked to give us the paperwork for the pellet gun confiscation, and they were really nice and didn't fine us for having it in the first place.
Terschelling is one of the Frisian barrier islands along the north coast of the Netherlands, and it's quite popular as a Dutch vacation destination. The attraction to cruisers is free laundry. Unfortunately, we didn't explore much of the island because the marina is on the expensive side. We had favorable winds when I'd finished washing everything on the boat over a period of a couple of days, so we headed to Helgoland (Germany).
Wireless Internet is theoretically available throughout the marina for a few. We bought some time but found we could only get a usable connection at the marina office.
IJmuiden
When we left Helgoland again on our way to the English Channel in July, we had a plan A and a plan B. Plan A was to sail to Scheveningen if we had favorable winds. Plan B was to go in at Den Helder if we didn't have good winds and then go through the IJsselmeer to Amsterdam and the North Sea Canal, emerging again at IJmuiden and skipping most of North Holland's North Sea coast. Plan B was recommended to us by a couple of Dutch sailors who stopped by the boat in Helgoland. They were heading to Terschelling and also advised us when the best time to leave Helgoland was.
We ended up devising a third plan en route. When we left Helgoland, we didn't have optimal wind, so we motor-sailed slowly in the direction we wanted to go. Somewhere around Ameland the seas started building, along with wind on our nose, and the current wasn't helping either. We bashed along, tacking across the inshore traffic zone along with about a half dozen other sailboats that we could see. At one point a boat in front of us started behaving oddly, and we started gaining on it. We had plenty of wind by then and were doing over six knots, so I shut down the engine to slow us up so that we wouldn't get too close. It turned out that the other boat was reefing. When I started seeing sustained winds over 20 knots, I called John and we reefed too.
Soon we heard a gale warning from the Dutch coast guard radio station. The quality of the transmission was terrible, so we couldn't hear the details. By then we were near the channel that could take us into the Waddenzee between Terschelling and Vlieland, so I thought that was an option if necessary, but it wasn't too bad yet, so we went past it.
And then the GPS on the chart plotter quit working. Except it wasn't only the GPS that quit: it was all of the instruments feeding information to the chart plotter including the radar. At this point we were bouncing around on the three-meter (10-foot) waves pretty good, double-reefed and using only the staysail for a headsail. We do have paper charts as back-up and a hand-held GPS, which was attached to our AIS, so we knew where we were, where the big ships were and whether we were likely to run into each other, and we could see the islands. I figured out that we could use the electronic charts on the chart plotter (the only part of that bit of Raymarine equipment that was still working) and plot our progress using coordinates from the hand-held GPS.
When I went off watch at midnight, we talked about whether we should attempt to get into Den Helder through a narrow channel with strong currents or just go on to IJmuiden on the outside. We decided to see how it was going when the time came to make a decision. That was during John's watch, and he told me when I came back on that there had been a passenger ship circling outside the channel waiting for the current to change, so he decided to continue on. Wise man.
We finally stopped at the Marina Seaport in IJmuiden. The marina is a ways out of town if you don't have a car, but there is bus service, and it's close to Amsterdam, so our friends came out to visit us there. The marina has all amenities, including self-service laundry, but it was one of the more expensive places we stayed in the Netherlands. While there we took public transportation (bus, bus, train, bus) to the Raymarine service center (De Jong & Zoon ) in Leiden and dropped off our defective chart plotter. The train runs from Haarlem, so we did a little sightseeing there too.
Scheveningen
Scheveningen is the seafront for The Hague. It was once a separate municipality, but now the two run together. The yacht harbor here has no access to the canals in the interior of the country, but it's a very popular stop along the North Sea coast. We've seen and been part of the biggest raft-ups of our cruising career here.
It was an easy trip from Leiden for the Raymarine serviceman to complete the repair of our instruments, and it only took an afternoon, so we were pleased. The problem was with water collecting in the aft port lazarette where the GPS junction box was.
While in Scheveningen we enjoyed the visiting the Gemeentemuseum (municipal museum) of Den Haag (The Hague). It's a huge museum, but we think we saw everything. We also took the tram to see the Peace Palace and then on into the city center. The Peace Palace was as impressive as I had hoped. And I was more impressed with the Binnenhof, the Dutch parliamentary center, than I'd expected. All in all, The Hague is a lovely city. It's newer, more spacious, and cleaner than Amsterdam, but it really isn't fair to compare the two. My sense is that Amsterdam is the creative center of the country while The Hague is the governmental center.
---
We highly recommend a visit to the Netherlands, but warn you that the weather isn't for everyone. It's also possible to charter boats there, so you don't have to come on your own keel if you don't have the time. We wish we had found time to do the standing mast route through the southern part of the country, but as we've learned, you just can't see everything.
Here's a link to our videos of the Netherlands.
Links to our photo pages from this leg of our voyage are below.
The Netherlands