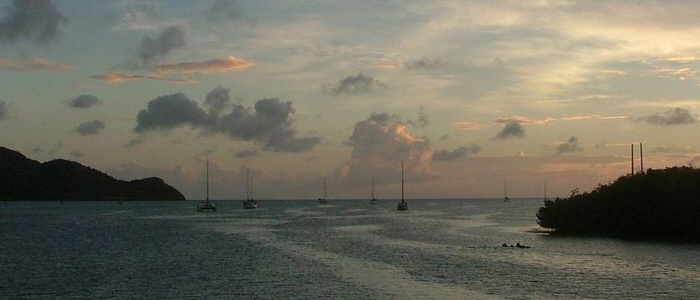 Letter published in SSCA Commodores' Bulletin, July 2008
Isla de Providencia
As we were planning our voyage north to Florida from Panama, we chose Isla de Providencia as our first stop because of its location, less than three days out from Colón. Other cruisers we talked with said it was easy to clear in and out of, and the Rains guide, Cruising Ports: the Central American Route, indicated that it was friendly and less developed than its big sister San Andrés. Nothing we learned in advance prepared us for how enchanting and friendly Providencia is.
Approach
The channel to the anchorage at Santa Isabel is well marked and lighted, so this is one place you could enter and anchor at night. However, the sea buoy and channel buoys are not exactly where our Navionics chart plotter showed them. Rains gives the location of the sea buoy as 13°23.95'N, 18°23.75'W, and that is close enough for route-planning purposes. Boats anchor north of the channel in the lee of Isla Santa Catalina. The holding is good, but there are a few shallow spots, so you have to be careful.
The population in the anchorage varies. When we arrived, we were the tenth boat there, but we left 20 boats on the hook when we departed and it wasn't at all crowded. SSCA commodores Chris Kuehner and Marianne Bremer on Shamu were there when we arrived and still there when we left. The day before we took off, SSCA associates Susan and Michael Beilan on Infini and Nancy Patterson on Willow arrived and stopped by to say hello.
Formalities
We arrived on Sunday afternoon and hailed "Bush Agency" on VHF 16 when we were in range. You are required to use an agent here and that's Bush Agency (bushagency2001@yahoo.es, telephone (578) 098 514 8050 or 514 8411, cell 311 5300399.) We didn't really expect an answer on Sunday, but the reply to switch to Channel 12 came back promptly. When Mr. Bush wanted to come right down to the dinghy dock to meet us, we had to explain that we were still at least an hour out. So we agreed to meet at 5:00 p.m. on a Sunday.
As soon as we dropped anchor, a neighboring cruiser stopped by to welcome us and point out the dinghy dock. Mr. Bush was there waiting to welcome us when we tied up. He explained that the immigration agent would meet us at her office there at the plaza, and then we would go to Mr. Bush's office to meet the port captain's representative. When we expressed surprise at the off-hours service, he said that the government of Columbia places great importance on service to the yachting community. Whether it's the government or Mr. Bush himself, the service is certainly extraordinary. Clearance in and out costs $90 USD including the agent's fee and is payable on departure. It took us less than 30 minutes to clear in with Mr. Bush to expedite.
Services
As we walked to Mr. Bush's office, he pointed out restaurants and stores along the way. Free wireless is available in the plaza by the dinghy dock, where there is also an ATM. There's another ATM at the bank near Mr. Bush's office. Although the local merchants will take dollars, Mr. Bush advised us that we would get a better deal if we got local currency at the ATMs.
Cruisers are invited to bring their trash to any of the public trash cans around the dinghy dock. The island is very clean compared to other places in Mexico and Central America that we've visited. Laundry services are available, we're told, across the footbridge on Isla Santa Catalina near the Sea Bamboo restaurant. We didn't need water or fuel, but they are both available on the island. Just ask Mr. Bush. He's the one-man cruiser welcome and information center.
While there are Internet cafés, the one we tried (Coffee Red Internet) had only dial-up connections and was much slower than the free wireless in the plaza. Next door to Coffee Red, however, is a coffee shop without a sign, next to Panaderķa Sunflower. This no-name coffee shop apparently has a long history with cruisers. The wall by the door holds a collection of boat cards. On the top row we found Saga, the boat that former SSCA Bulletin editor Nancy Birnbaum sailed from San Francisco to Florida. We added our card at the bottom.
Things to do
Dive centers abound on the island, and there is also snorkeling. We rented mopeds and toured the island. There are several beaches complete with beach bars. And there is a hotel zone, but it's a far cry from the high-rise hotels and condos in Costa Rica and Cancun. It feels remote and unspoiled and we loved it.
The island's past as a pirate haven is much in evidence, and the name Morgan features prominently in the geographical names: Morgan's Channel, Morgan's Head (rock formation) and Morgan's opposite of head (properly called Split Hill). The ruins of Fort Warwick (Fuerte de la Libertad) on Santa Catalina have cannons pointing out over the harbor and are easily accessible on foot by means of a malecon. (In the Rains guide, this is labeled Fort Aury.)
Providencia is a beautiful island, a mountaintop sticking out of the sea and surrounded by a reef. The people are friendly and obviously proud of their island. It's what I always imagined a Caribbean island would be like. Boats tend to come for a few days and stay much longer. Our planned three-day sojourn, for example, turned into six, and we would have been happy to hang around for another couple of weeks. Although it's off the regular Caribbean cruising route and a long way from anywhere else, if you have the time for a detour, we highly recommend a stop here.