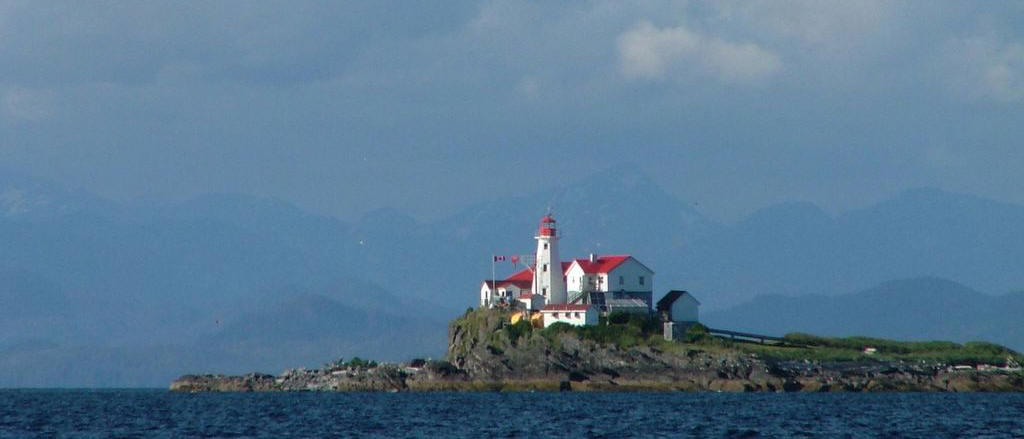 People along the way
(This page is far from complete. We have many important people to add. Now that Shirlee's retired, we'll try to get it finished.)
We were continually amazed by the kindness of people we met along our way. Lest we forget, this page will help us remember.
---
Esmeralda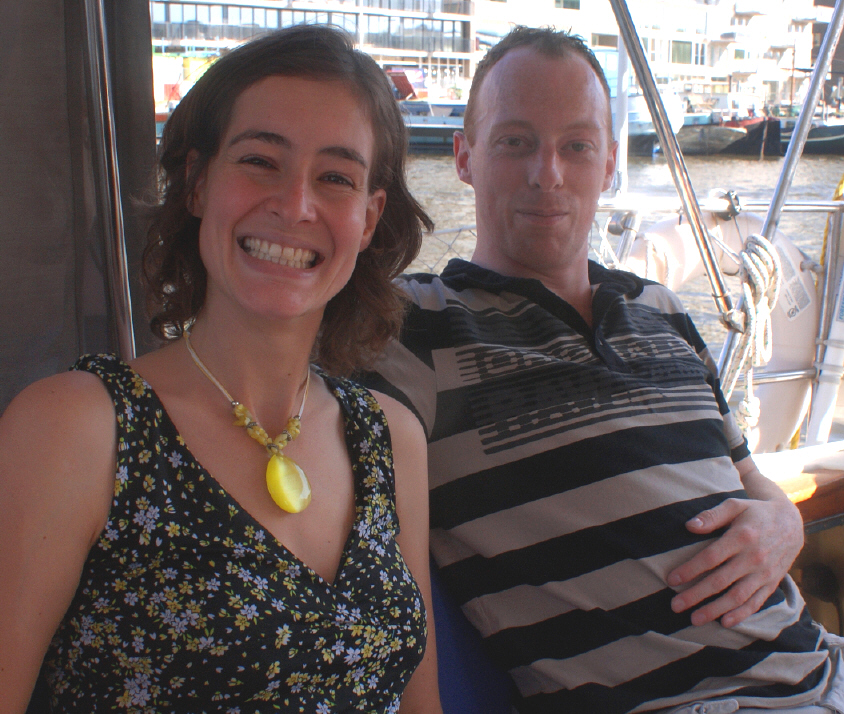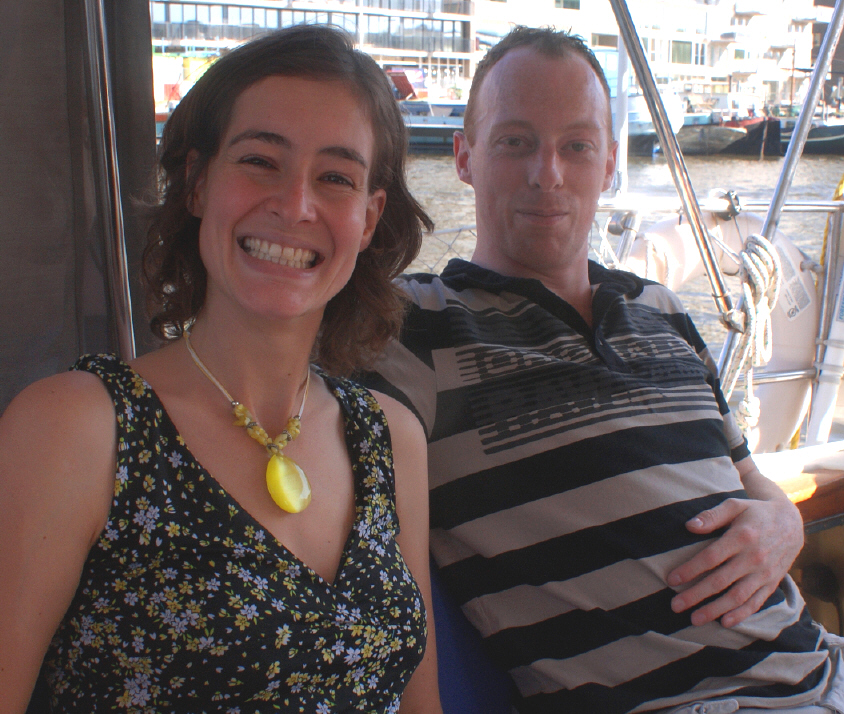 Esmeralda was our first "Dutch girl" in San Francisco, young women from the Netherlands who rented a room from us while attending San Francisco State. Esmeralda is known in our extended family for Dutch pancakes, and we'll always know her as the life of the party. Even before we met up with Esmeralda and her husband, Mark, on our voyage, we reconnected on a 2004 trip to the Netherlands with friends. She surprised us at the dock in Monnickendam and then showed us some fun places in Amsterdam.
Update: We're very happy that Esmeralda continues to make time for us now that she's a busy mother and executive. Shirlee met the whole family on her 2016 trip to the Netherlands.
---
Anouk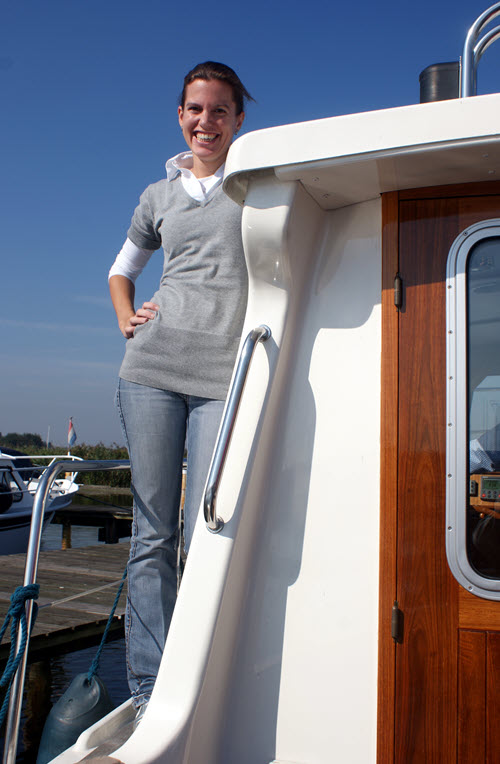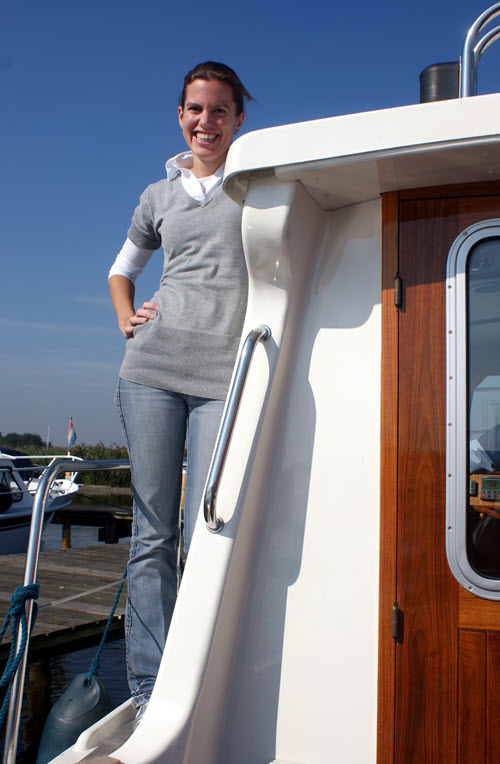 Anouk was one of our "Dutch girls" in San Francisco, young women from the Netherlands who rented a room from us while attending San Francisco State. Dolphins and the color pink always remind us of Anouk. We loved getting to know her and her family then, and it was so nice to see them again when we were in Amsterdam. There's more about Anouk and her family in our blog: Boat ride and rijsttafel and Great dinner at the van Gerwen's.
Update: Shirlee saw Anouk and the van Gerwens again in Spring 2016, and they treated her royally. We're looking forward to seeing them again in September 2023.
---
Marike Heyboer-Nefkens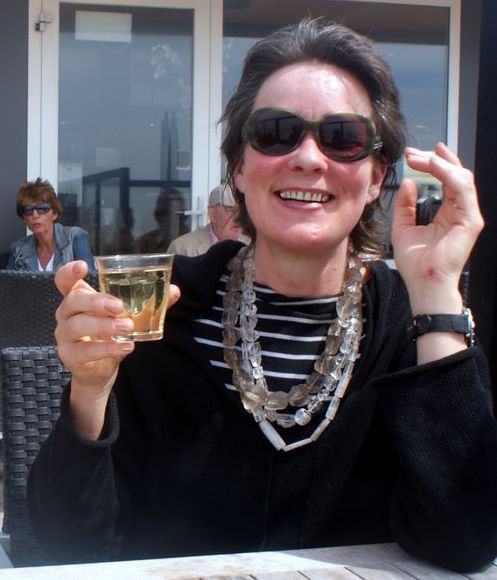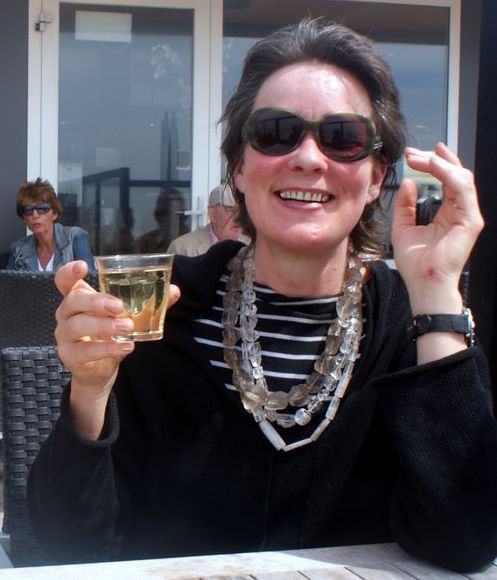 One of the reasons to spend time in Amsterdam was so that Shirlee could renew her friendship with her best friend from her days as an exchange student in Amersfoort, Netherlands. She was so excited to see Marike again, and they got together regularly throughout the winter. As long as we were in North Holland, Marike would come to see us, and she and Shirlee also made a trip to Amersfoort to check out the old neighbhorhood. Thanks to the Internet, it will be easier for them to stay in touch until they meet again.
Update: Marike and Shirlee have met up several times since our voyage ended: In 2013 when Shirlee went on a tour of Ireland, she scheduled her flight via Schiphol, and Marike met her there for coffee. In Spring 2016, Shirlee spent two weeks with Marike touring Holland, riding bikes, visiting other old friends, and exploring museums and Keukenhof. It was magical! In April 2017, Shirlee managed to schedule a layover in Amsterdam on her way to Estonia, and Marike played host and chauffeur so they could spend time together again. We'd planned to meet again in 2020, but COVID canceled that trip. It's now scheduled for September 2023.
---
Sjoerd Santema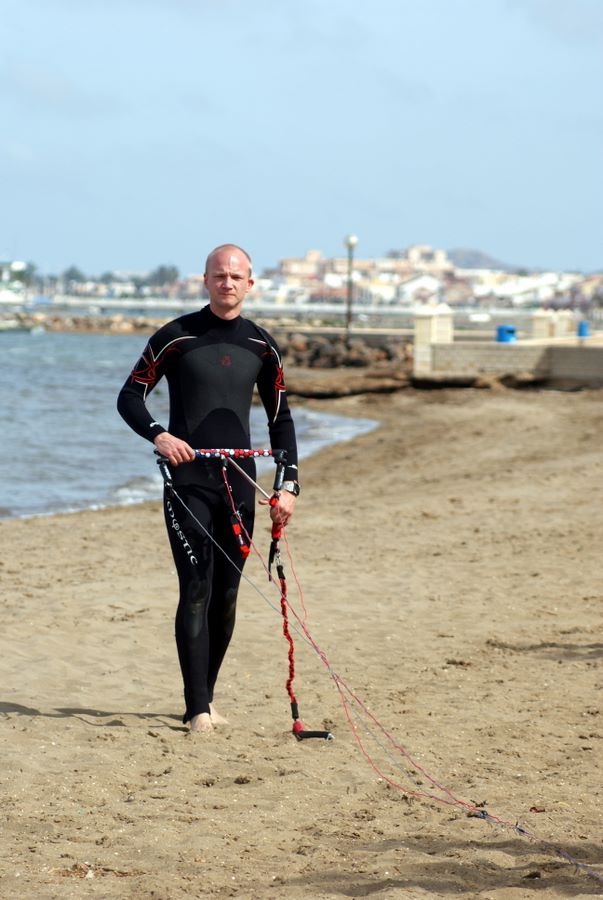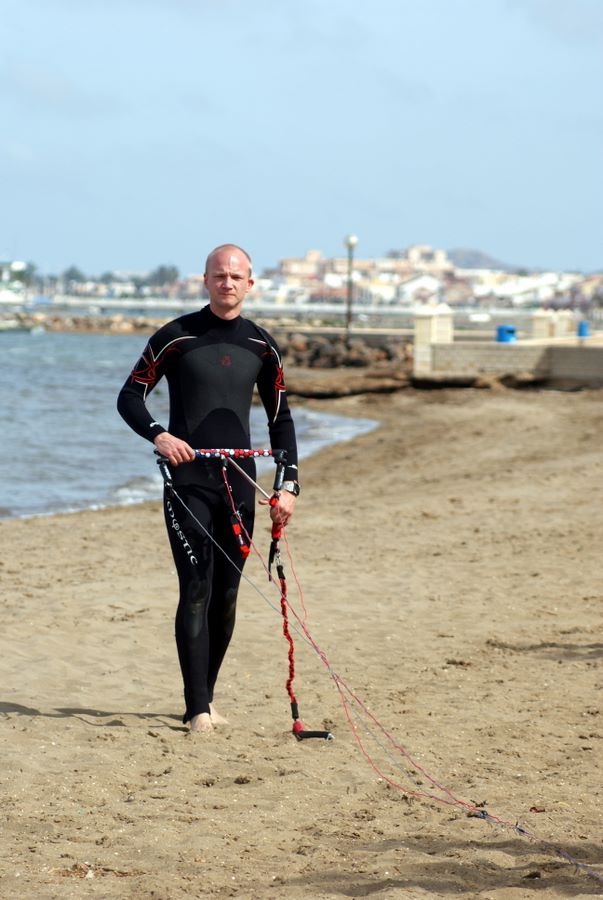 Sjoerd Santema was our harbormaster in Amsterdam and became our friend. He took great care of us over the winter of 2008-2009, and we stayed in touch through Friesland. In March of 2010 Sjoerd, now a kite surfer, came to visit us in Spain to check out the beaches. We suspect we'll see him again someday, whether in San Francisco, Amsterdam or some great location for sailing or kite surfing.
---
Lex van Grinsven & Maria Schellekens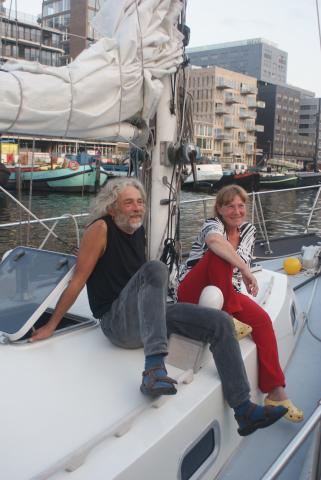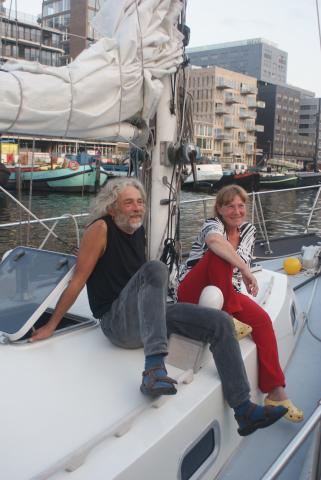 Anaconda was too wide for the slip that she had been assigned at Marina Westerdok, so we invited Lex and Maria to raft up with us. It was our good fortune to meet them. After three days of boat visits between neighbors, Maria and Lex invited us to visit them at their home in Den Bosch. That is a very special treat for us. We've been once already for a regatta at their yacht club and are planning to go again for Carnival in February. We're hoping that we'll be able to do some cruising with them someday. They're such great company! It would be fun to explore places together.
---
Laurie & Sue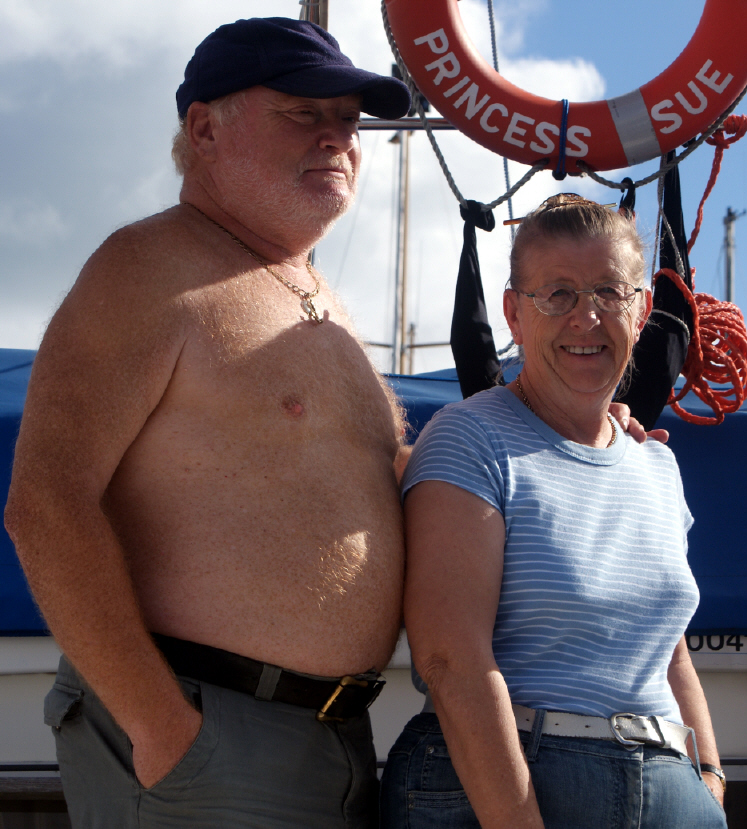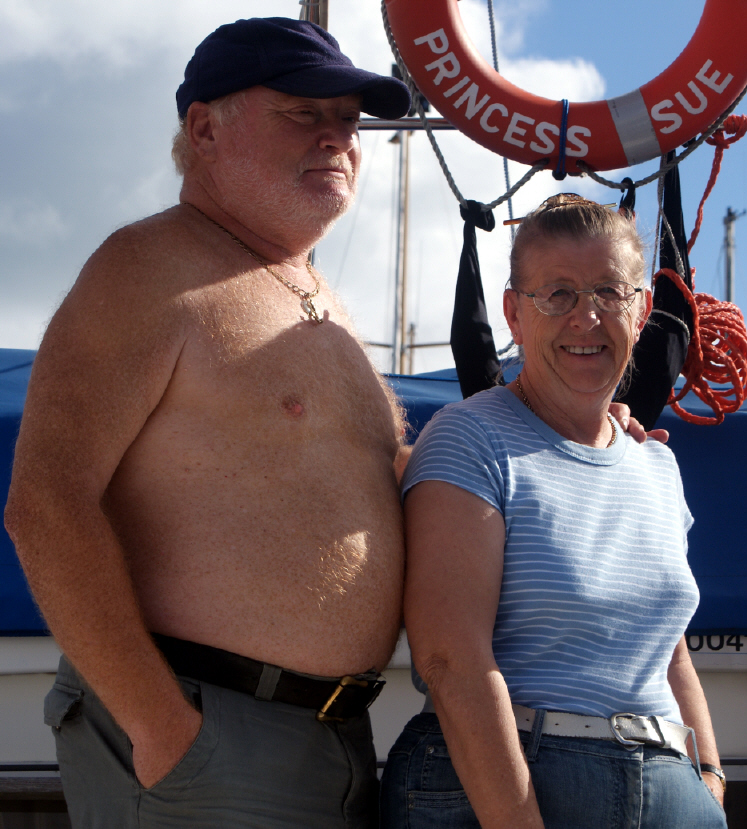 The marina at Cherbourg put us on a dock with the long-term boats rather than the transients, so it wasn't a good place to meet other cruisers, but we did meet some wonderful "locals." Brits Sue and Laurie now live in Cherbourg aboard their motor yacht Princess Sue. Sue and Shirlee met in the laundry room where Sue was helping transients figure out how to use the machines. Princess Sue was on the same dock we were, and Sue invited us to visit. We exchanged reading material and stories, and the next thing we knew, Laurie and Sue were offering to take us in their car with them to provision. As if that weren't enough, they also took us to the U.S. cemetery at Omaha Beach and to Bayeux. We're looking forward to seeing them in Amsterdam and are considering wintering next year in Cherbourg.
---
Midatlantic Meet-up
The most awesome thing about the Azores, besides the place itself, was that the cruisers we met there were all bluewater passage-makers by definition. For some it was the first crossing, as it was for us, but some of the others we met had crossed multiple times both ways.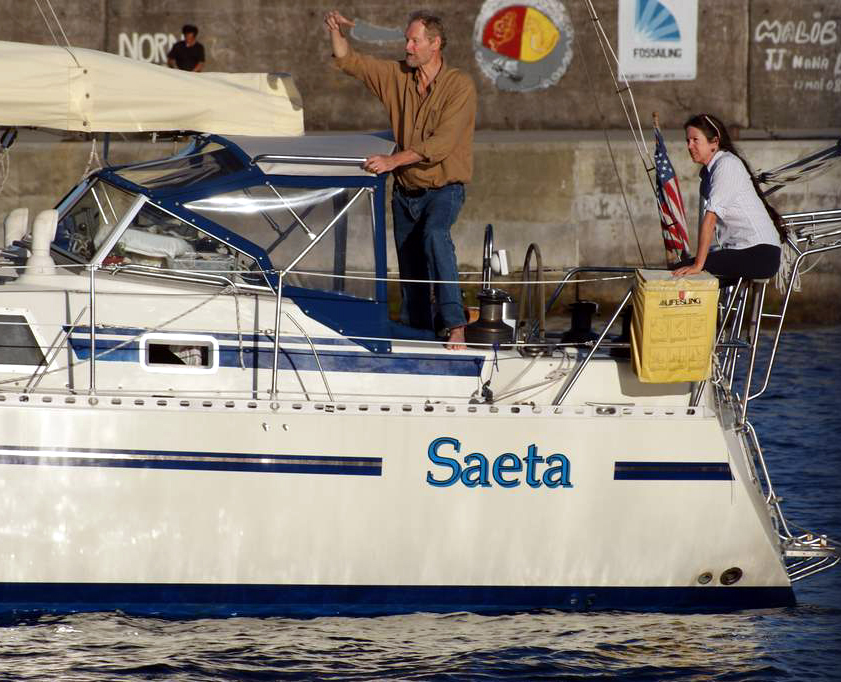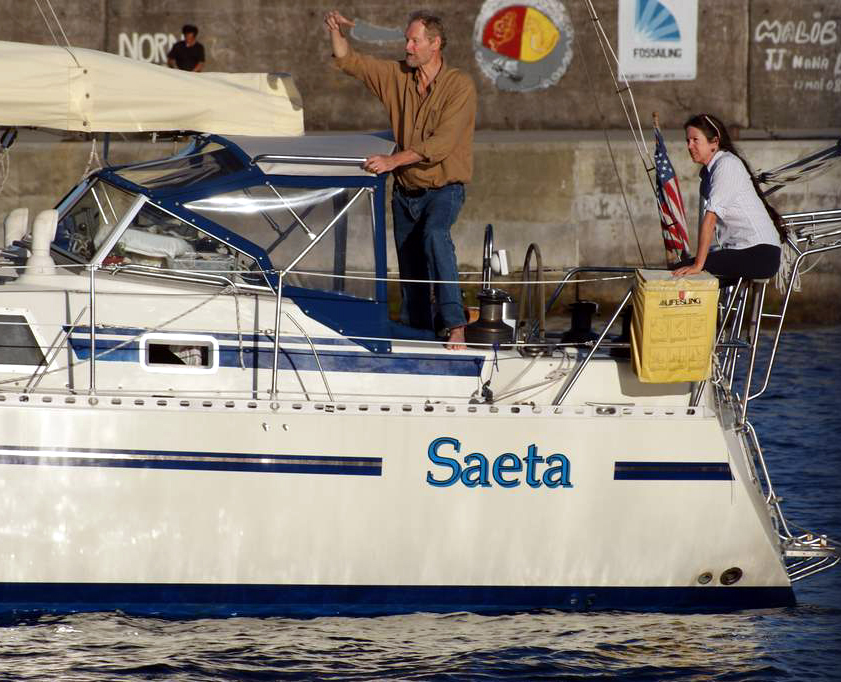 The first people we met were Richard and Andrea Black on Saeta, along with their crew Merritt Edmunds. Saeta is another Sceptre 41. We felt like we already knew the Blacks from their blog. Shirlee had been following them and corresponding since soon after they left Santa Cruz in 2006. We also talked with Richard on the SSB during the crossing from Florida. In the Azores we enjoyed several excursions with them. Richard is a flamenco singer and guitarist (retired from some other more mundane profession), and Andrea is a flamenco dancer. They were headed to Spain where they are spending the winter and enjoying the flamenco culture.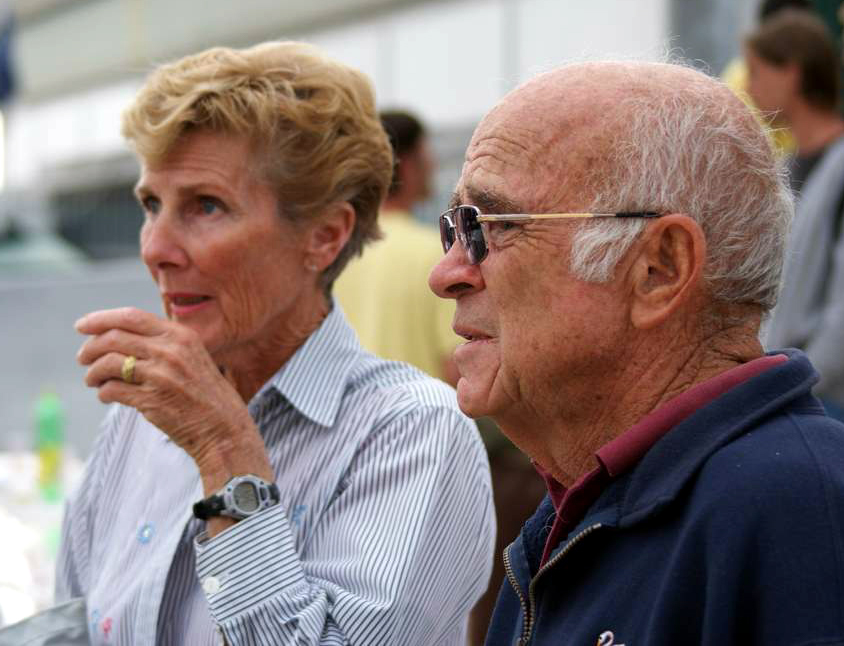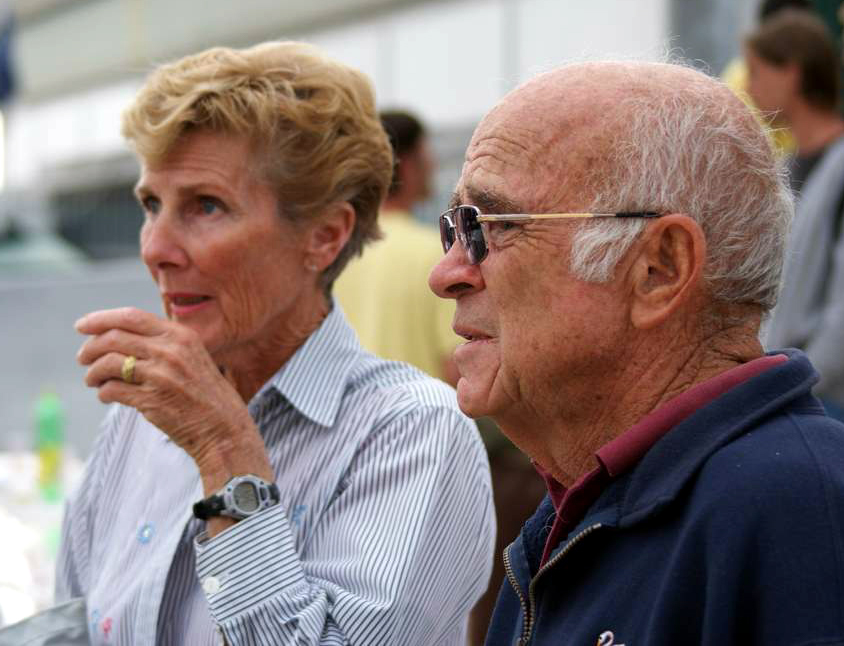 The Blacks introduced us to Bones VIII, yet another boat from California who came into Lajes. Bill and Angela Chapman said they were using our conversations with Herb on Southbound II to get their weather information too. We didn't get their contact information, but we did get their picture. Bones VIII is a big Swan, maybe a 50, which Angela says is more of a racer than a cruiser.
The Chapmans were sailing in company with Locura from British Columbia. Ivan and Vesna Blauhorn were sailing from B.C. home to Croatia with their cute little dog, Squeaky. We met them at Flores and passed them and Bones on the way to Horta. When Orinoco and the rest of the mini-rally arrived, we discovered that Ivan and Vesna had met Jim in Victoria where he had given them some advice that they greatly valued. They were thrilled to see him again. It is a small cruising community that we're part of now, even if it doesn't look that small when the harbor at Horta is full.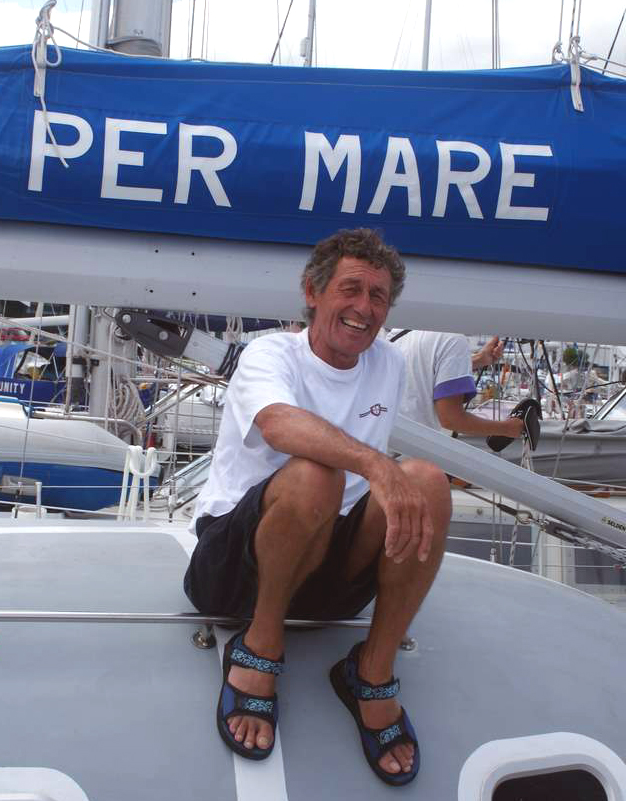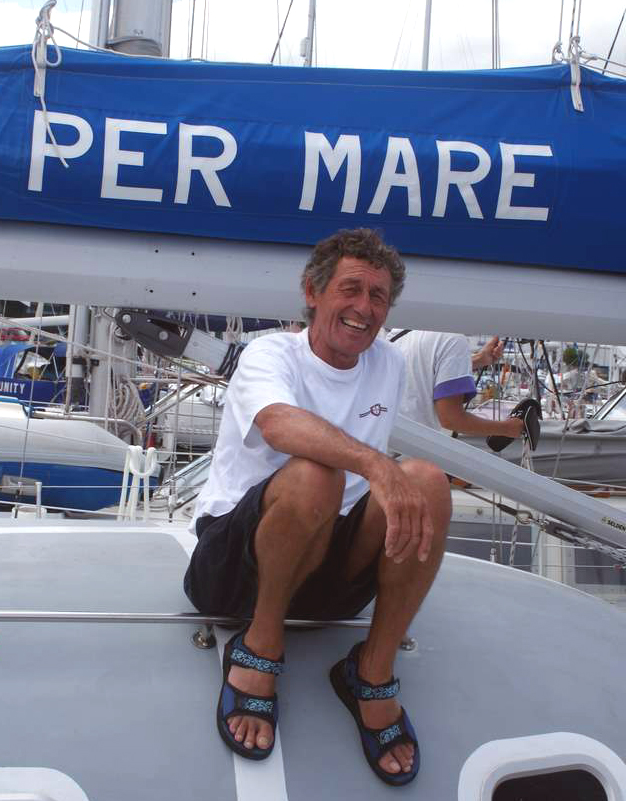 Per Mare was the boat we rafted up with when we arrived in Horta. Gerry, the owner was the one responsible for us joining the rally to Velas. He was great fun—always smiling and cheery and we never heard a cross word from him—and we hope we'll meet up with him again. Gerry has left Per Mare in Portugal this winter (2008-09) and returned to the U.K. to work.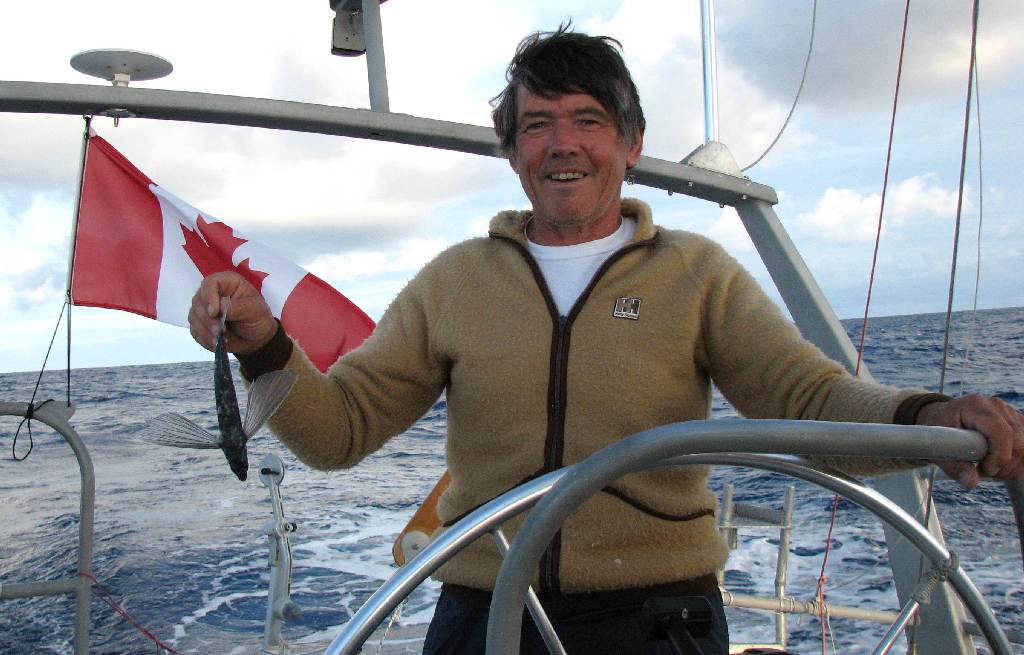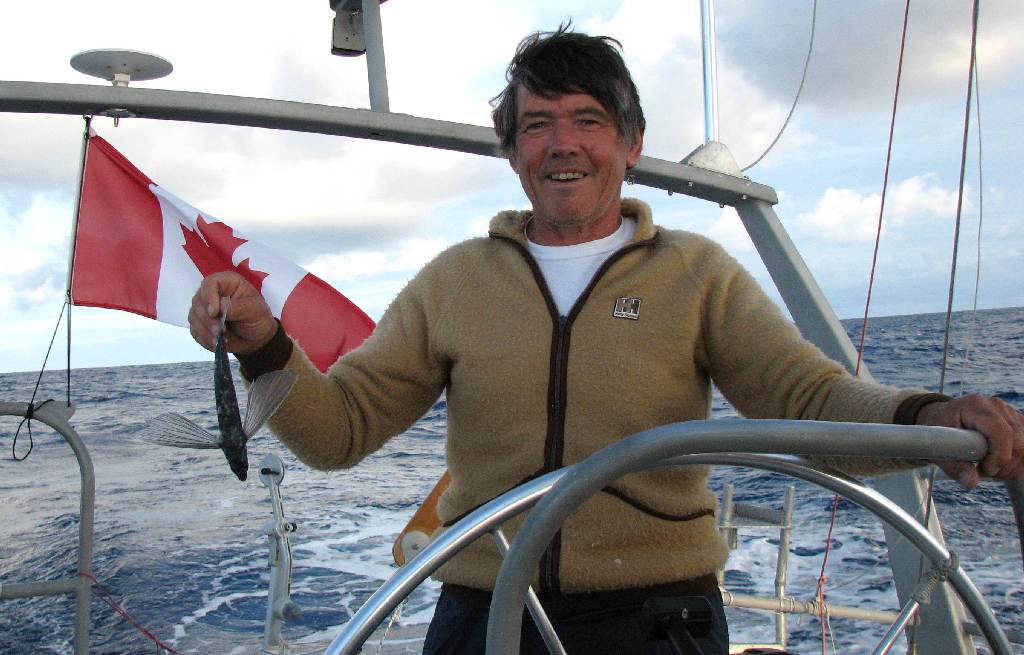 We started hearing Milvina on Herb's weather check-in as we passed Bermuda, and we first met Neil and Helen in Flores. Unfortunately, we didn't get a photo of both of them, and we borrowed this one off their website. Milvina was the third foreign boat in the Horta-Velas rally. We're staying in touch with Helen and Neil and have vague plans to see them in Scotland in the summer. If so, we'll be sure to get a picture of the two together.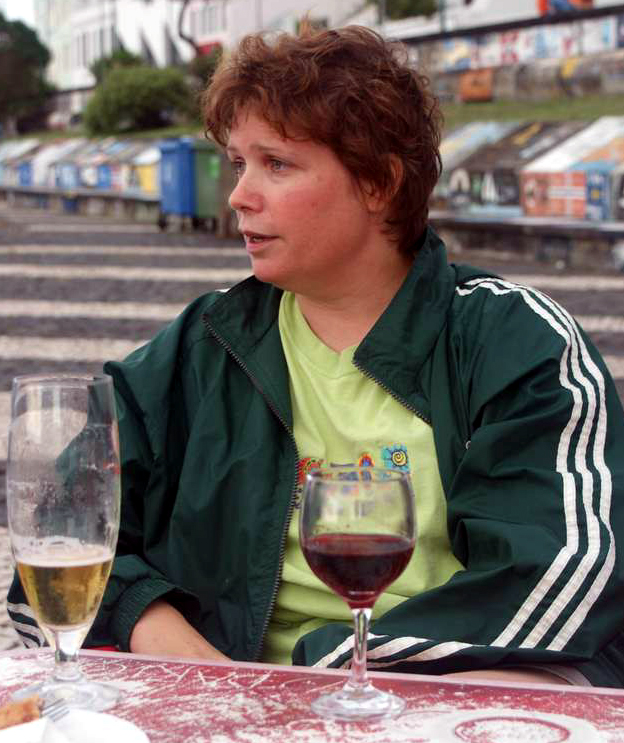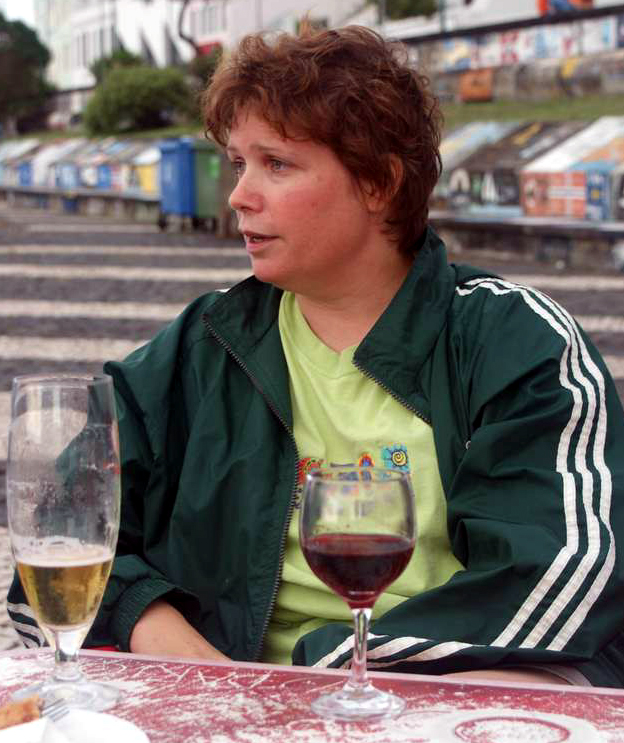 The last we heard, Argonaut is now in Tunisia. Bill and Diane were in the raft-up behind us on the wall at Horta, and they no sooner tied up than Diane started organizing social gatherings. She was a great social director. Sorry we don't have a photo of Bill too.
Yes, there really are SSCA commodores everywhere. Gus and Helen on Wings are among them. Somehow we didn't get their photo in Horta, but we may see them again in the summer since they're wintering in London.
---
Mini-Rally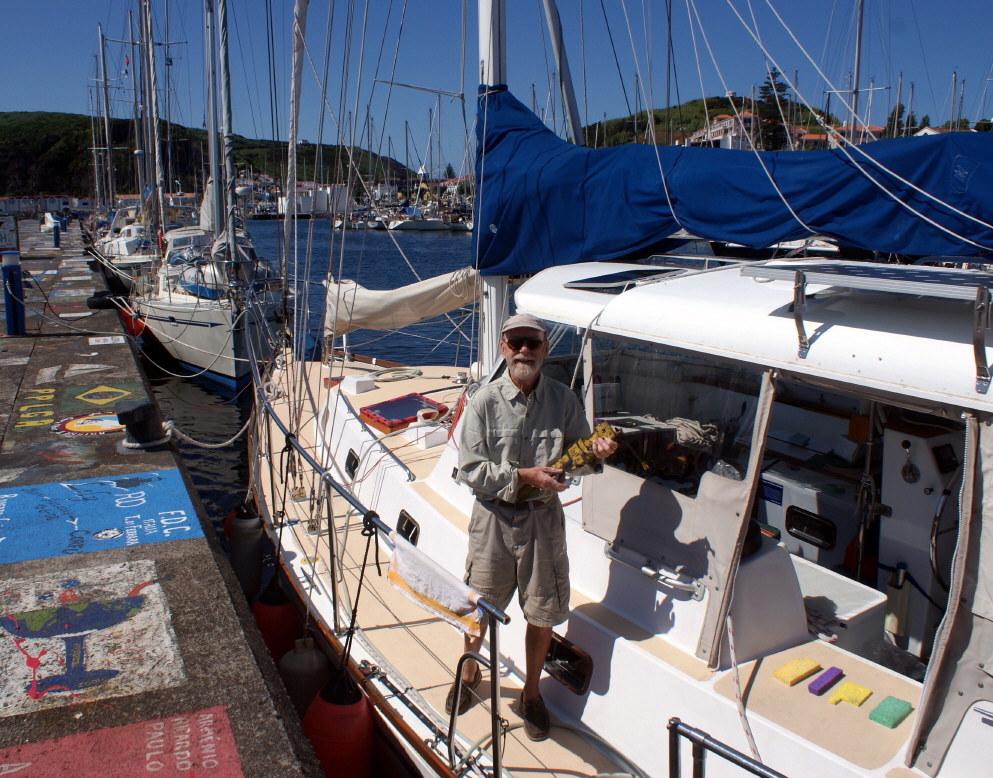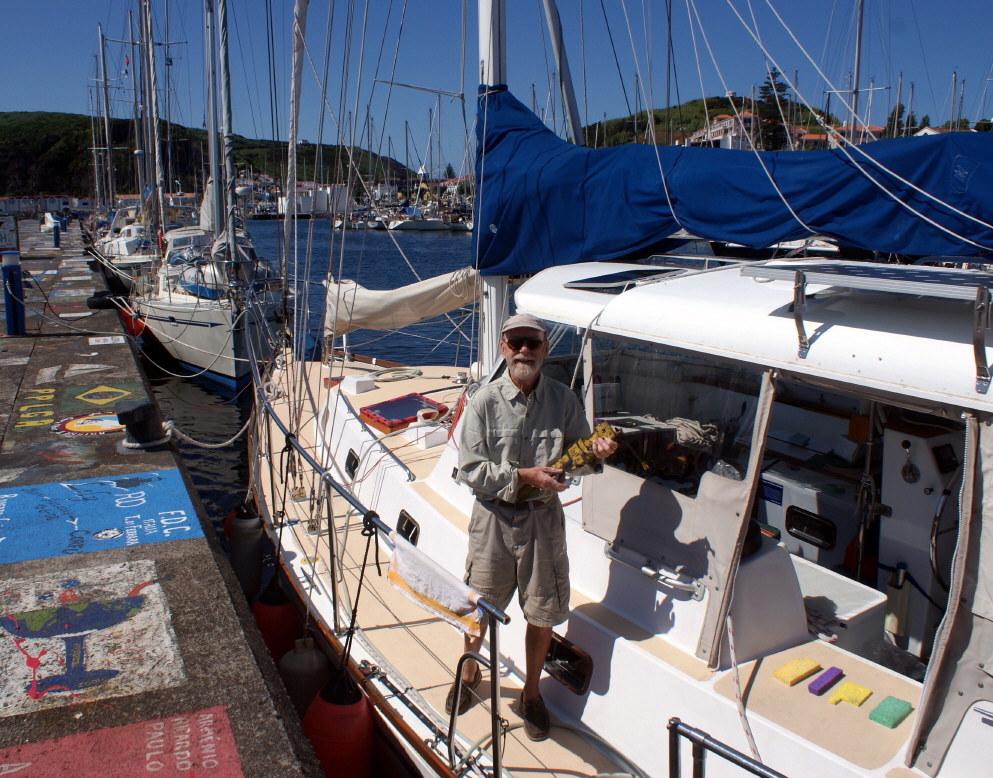 We had been keeping track of Jim Piggford, single-handing on Orinoco, since we sailed together from Golfito, Costa Rica, to Panama. There we were next-door neighbors at the Balboa Yacht Club moorings and on the hard at Shelter Island. When we caught up with him at Fort Lauderdale, low tide sent us to the New River wall for moorage rather than the buoys where Jim was. Still, he didn't forget us and our intention to cross the Atlantic together. Instead he found two other boats to join us.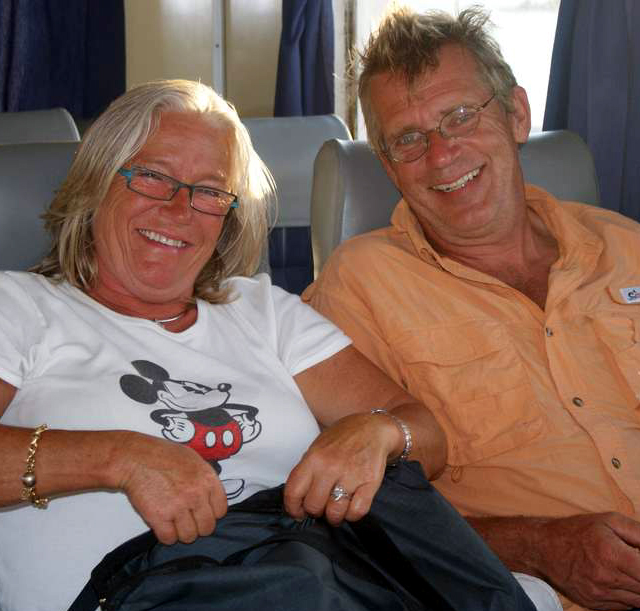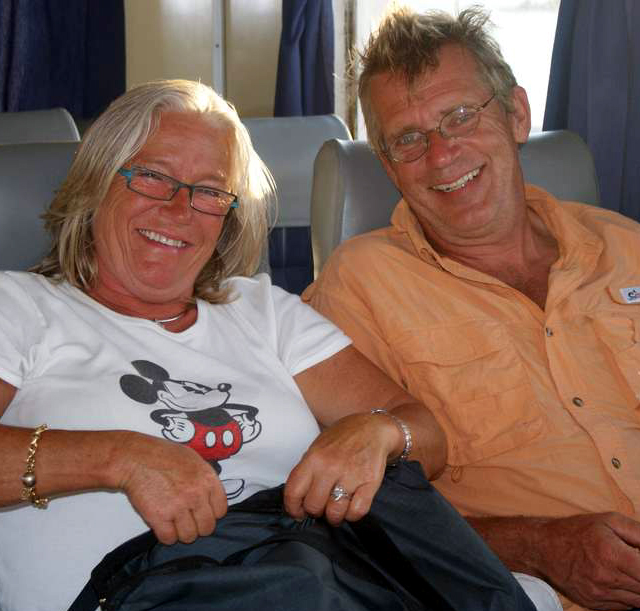 David McCune on Ventura is another single-hander. He took the lead on the radio check-ins while we were at sea. A textbook publisher from Ventura, California, David and his wife, Gunilla, divide their time between California and Sweden. David is delivering Ventura to Sweden so that they can sail there for a couple of years. We hope to meet up with them again next summer (2009) as they complete the delivery from England to Sweden.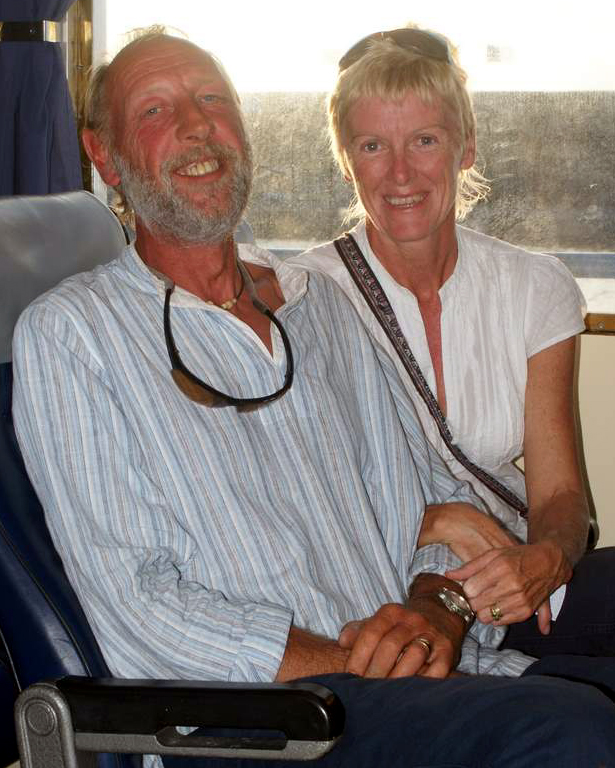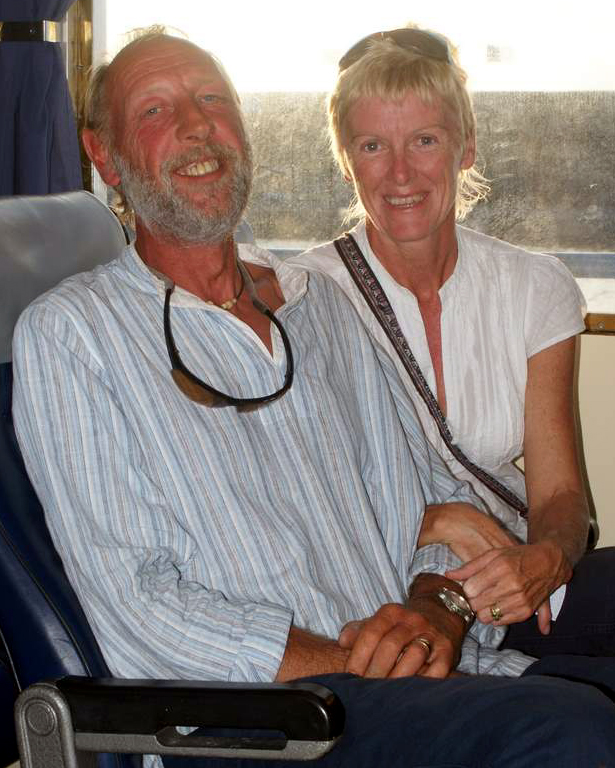 Paul and Liz Hanson are a British couple who decided to buy a boat in San Diego and take a couple of years to sail it back to Britain. Their CT 41, Aphrodite, had the roomiest cockpit and became the gathering place for our crowd while we were in Horta. Liz and Paul are now back at work in England, and we aren't sure when we'll meet up with them again. The plan is to sell Aphrodite and buy another boat.
Although we had intended to cross the Atlantic more or less together, Aphrodite had engine problems that delayed their departure from Fort Lauderdale a day, and then they decided to go to Bermuda. Orinoco and Ventura had power problems and also headed to Bermuda. Our roller-furler failed, but we were able to fix it at sea, so we continued alone to the Azores. In Horta we had checked out before we learned that the others were spending another night, and they were going to England anyway, so that was the last we saw of the Mini-Rally.
---
Greg & Kathy Nuding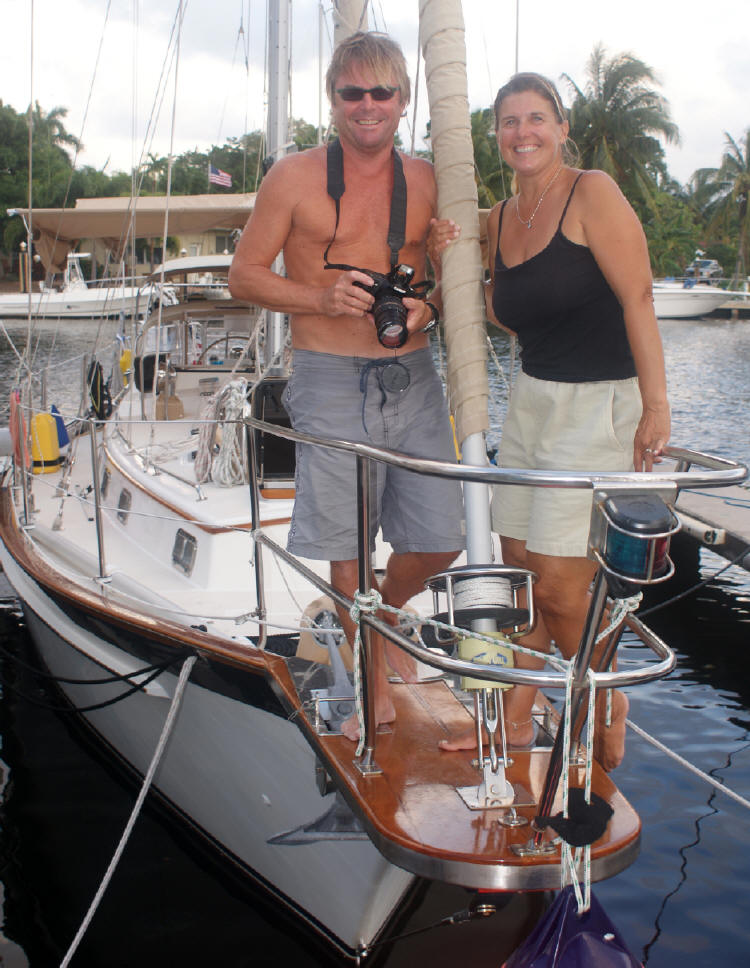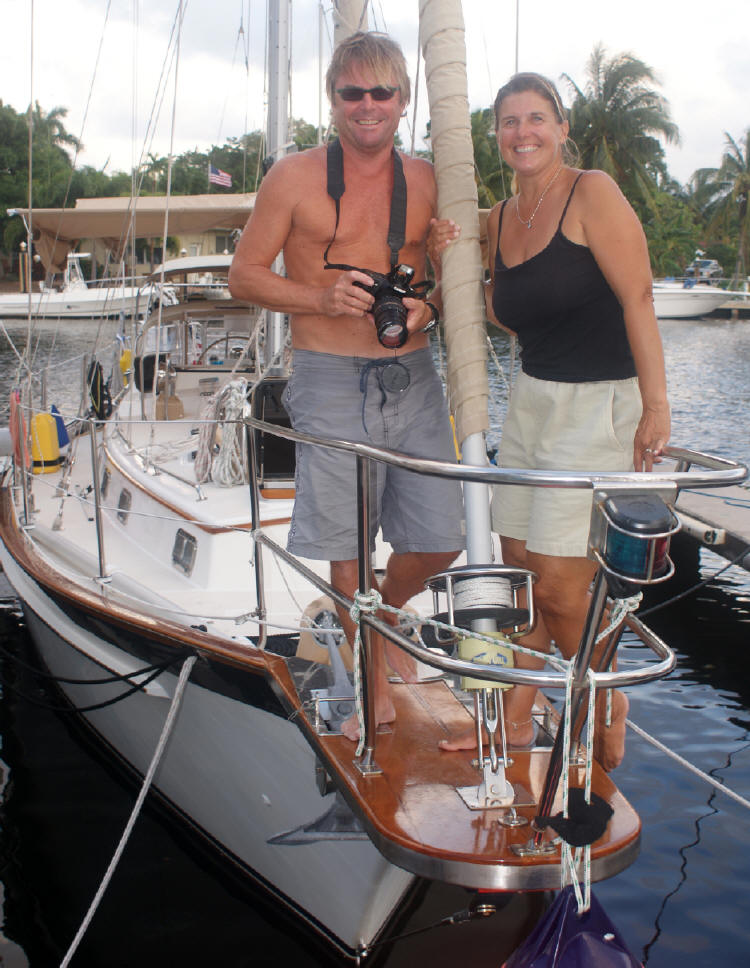 Kathy was leaving West Marine in Key West as we were entering. I'm not sure why we spoke or how The Netherlands got into the conversation, but once the Dutch connection was introduced, we knew we would pursue the acquaintance. Indigo is a beautiful Cabo Rico 42 cutter, and Greg and Kathy are just starting their cruising life aboard her. They have sailed extensively, though, in Europe and the Great Lakes, so it's only the full-time live-aboard life style that's new to them. It's been a joy to spend time with them in Florida, and we look forward to meeting up with them again soon. Maybe they'll be ready to cross the pond next year.
---
Jan Campbell & Joan Gregory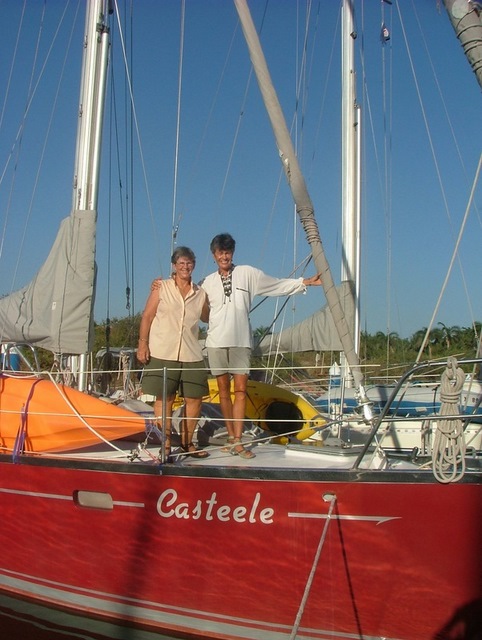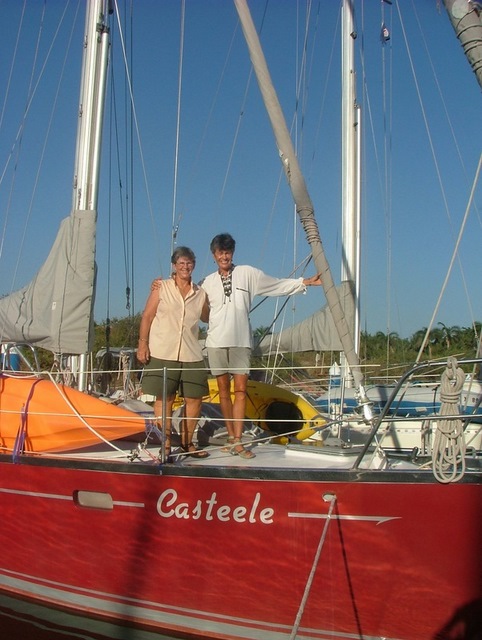 "They call us the dos Juanitas," Jan told us when we met them in the marina office at Las Hadas. Actually, we first met Jan and Joan, albeit briefly, at Elliot Bay Marina in Seattle in June 2006. They were preparing to head south, and we were on our way to Alaska. We were delighted to see Casteele again in Manzanillo and arranged to try to catch up with them in Zihuatanejo, which we did. Next it was Marina Chachué and a rendezvous in Oaxaca. We stayed in radio contact crossing the Tehuantepec, but when we lost our transmission, they had to go on without us.
When they aren't cruising the Pacific, Jan is a real estate agent who specializes in finding just the right home for first-time buyers. Joan is a book editor. There's a link to their website on our links page if you'd like to know more about them and their travels. We certainly hope to see them again in an exotic port somewhere.
---
Horst Wolff & Julia Shovein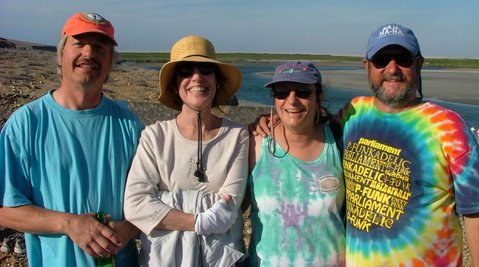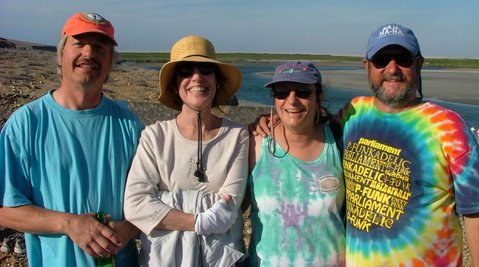 A name sounded familiar as we reviewed that list of Baja Ha-Ha participants: Paradise. Our first boat, Resolution, was from Paradise. Since Paradise, California, is land-locked, we figured the odds were small that there were two sailing families from there. We also remembered that Resolution's former owner was a nurse and the name Horst also sounded familiar. Shirlee decided to check it out. Sure enough, Horst and Julia, now sailing Pacific Star, are the people we bought Resolution from. They seemed as excited to meet us as we were to meet them, and we had a great Resolution owners' association meeting at Bahía Santa Maria. We had visited Resolution at the dock at Moss Landing on our way south and were able to report that she looked like she was being well cared for.
---
Steve & Lori Dana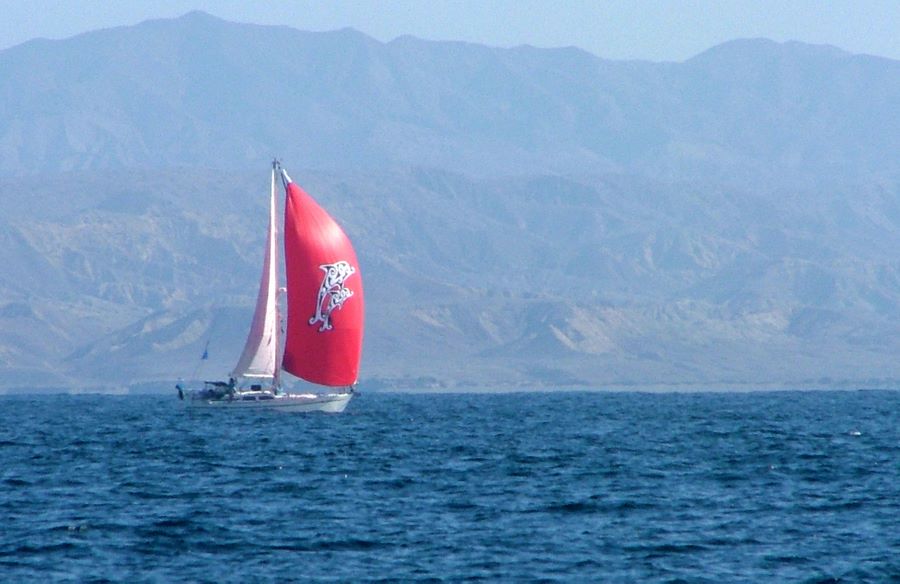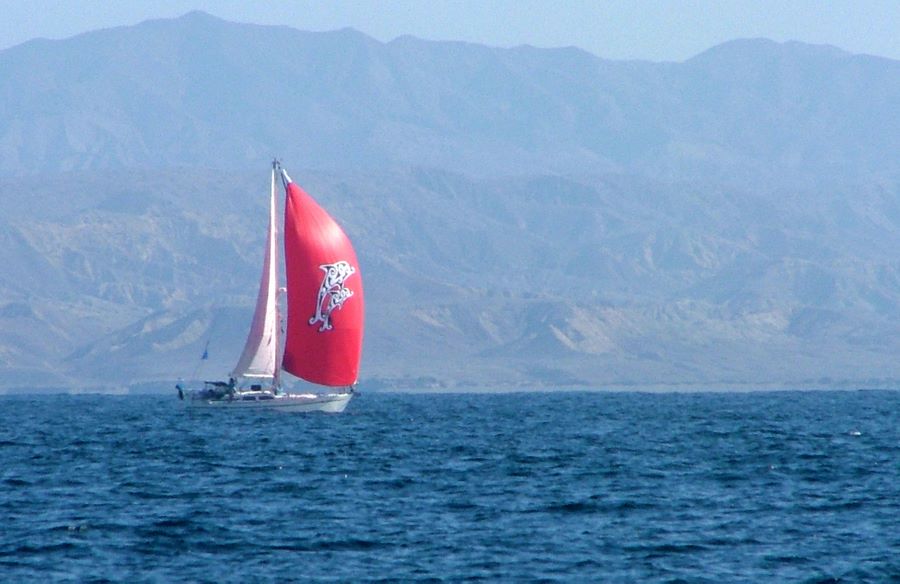 Pacific Wind is a Sceptre 43 with the nominal home port of Friday Harbor. We learned from Don Rosenthal, though, that the Danas are really from Marin. We finally caught up with them at Turtle Bay where we gave them a ride to the beach party. Later Shirlee stopped by with Märzen to visit. Steve is an emergency vet, and he snuck a quick peek at Märzen's teeth and eyes before under-estimating her age by several years. The dolphins on Pacific Wind's spinnaker match Lori's lower back tattoo.
---
Don Rosenthal & Elsie Fletcher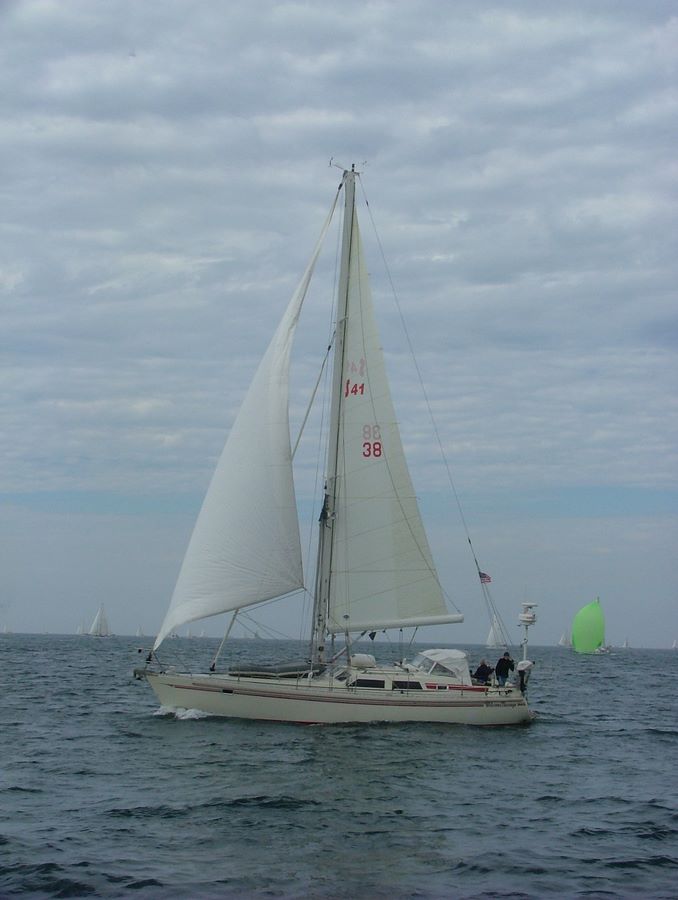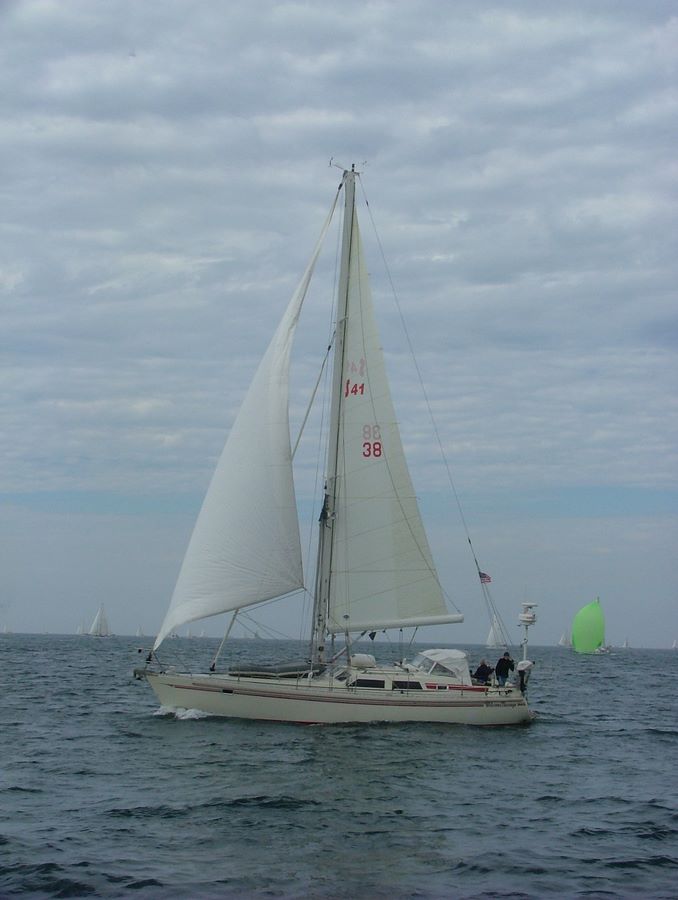 We were very excited to meet more Sceptres on the Baja Ha-Ha, and Welcome Passage was the first of these. Don and one crewman tied up at the San Diego police dock one morning when Märzen and I were out for a walk, so we went right down to greet them. Elsie and her sister flew in to join Don later. Don has expressed interest in going through the Panama Canal with us, and as a retired airline pilot, he has the flexibility to show up whenever the time comes. He's a very experienced sailor and a fun guy, and it would be great to have him along.
---
Kent & Heather Sisk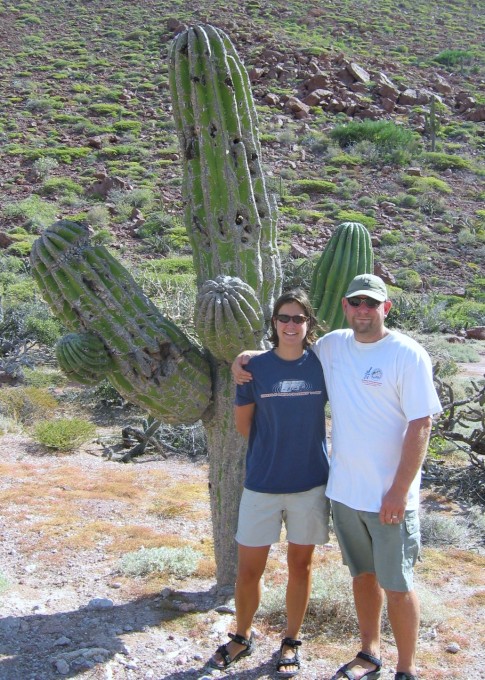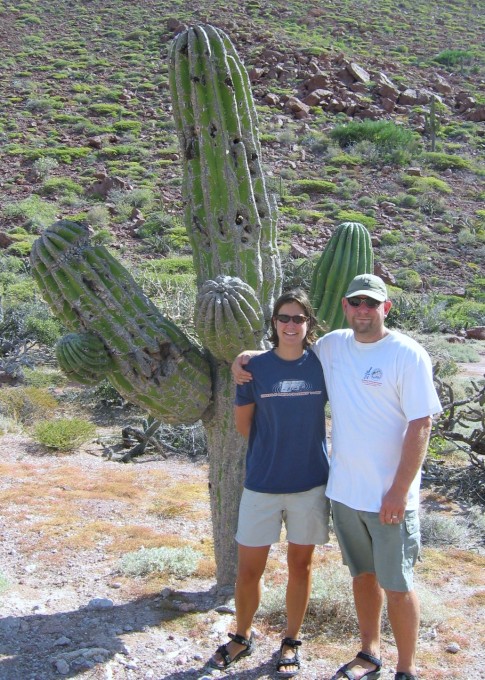 We heard about Hiatus from other Oregonians in Morro Bay and again in Oxnard, but we didn't catch up with them until Newport Beach. Märzen and Shirlee went right over to introduce themselves. Later Kent and Heather stopped by Solstice on their new-to-them kayaks to return the greeting. Kent and Heather both raced sailing dinghies at Willamette Sailing Club, as did Shirlee many years ago. Hiatus and the other Oregon boats went up into the Sea of Cortez while we simply headed south. They were a lot of fun, and we miss them.
---
Dave & Helen Peoples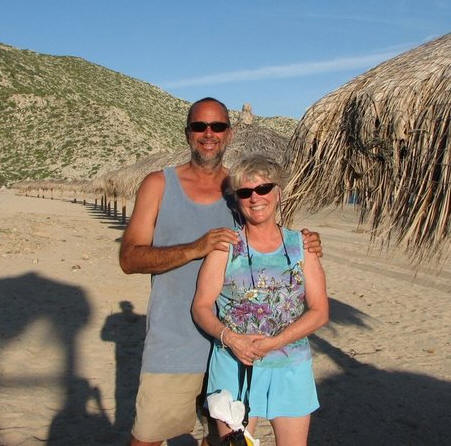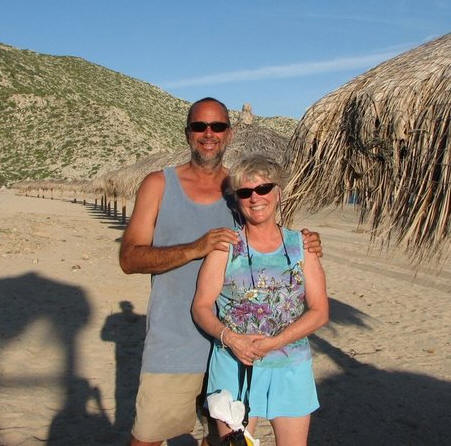 We met Dave in Oxnard when we had to take Märzen to the hospital. Jammin was flying the Baja Ha-Ha burgee, and we decided it was time to raise ours too. Helen caught up with the boat in San Diego, and we all hung out at the police dock, along with Hiatus, Welcome Passage, Paradise Bound, and Volcano. We had lots of fun with the other Oregon people (Jammin, Hiatus, and Sans Cles), even though we're officially from San Francisco now. The Jammin people have their own website and blog. Check them out.
---
Trace and Jelena Teague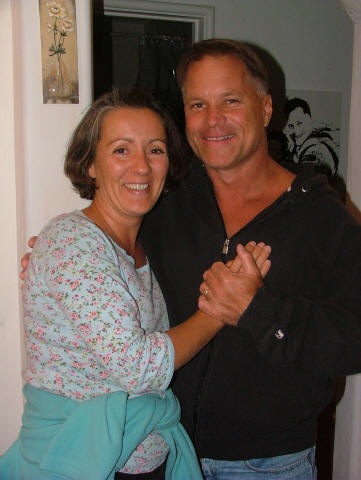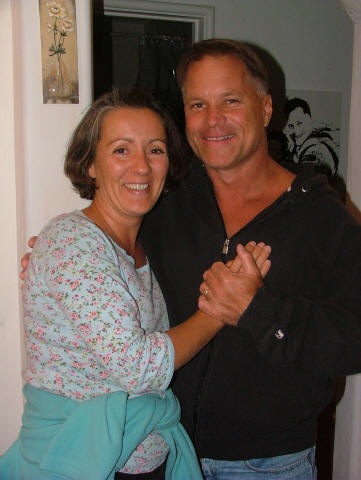 One of the reasons we stopped in Monterey was to meet Trace and Jelena. They're friends of the Bensons, and Steve thinks Trace might want to sail a leg or two of our Atlantic crossing. We really enjoyed visiting with them and seeing their beautiful home.
Whether Trace sails the Atlantic with us or not, we hope we'll be able to meet up with them in Croatia (Jelena's original home) for a little sailing.
---
Larry and Ken of s/v Julia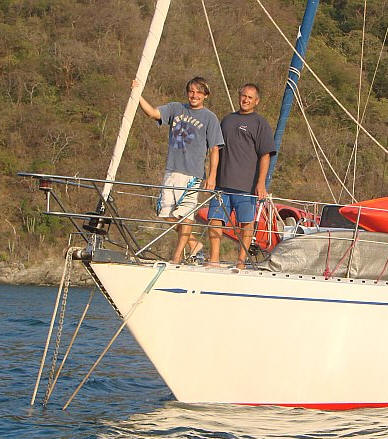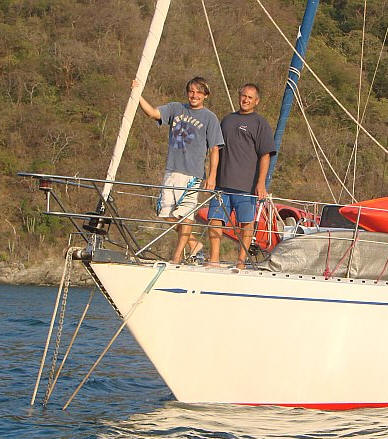 I noticed Julia's Emeryville Yacht Club and rainbow burgees right away when we docked at Emery Cove after the run down from Westport. Diane in the office told me they had just completed their circumnavigation, so I kept an eye out for the guys. We wanted to hear about their travels. When we finally met, they wanted to raise their waterline and lower ours by selling us stuff. We bought their dinghy and outboard (and some fasteners and books) and became friends. Our instructions are to drop Julia's name along our way. It's a small world after all. (Larry is on the right.)
---
Scot Hunter of s/v Jaga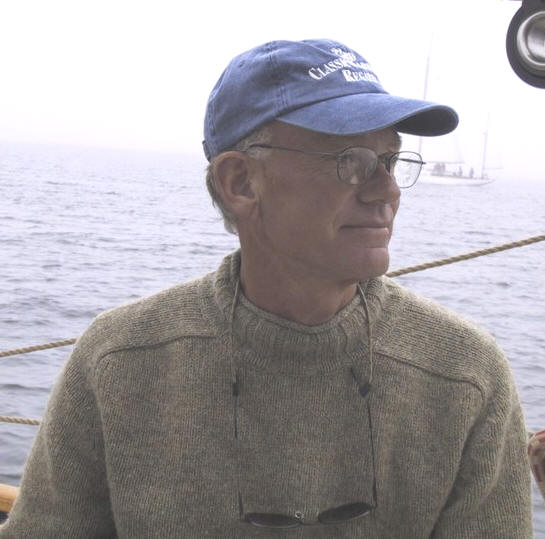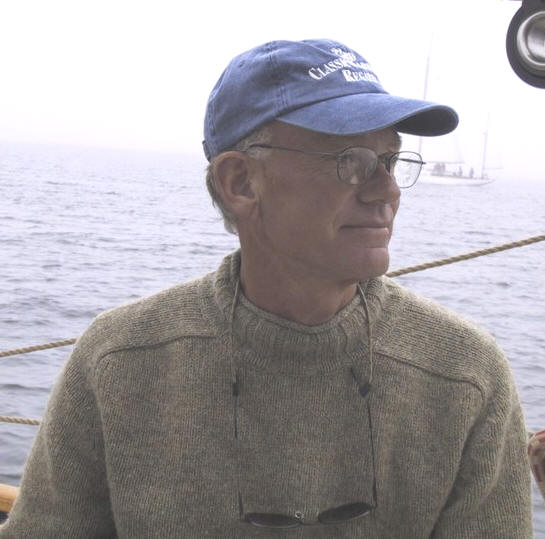 Jaga is a beautiful, and beautifully maintained, wooden ketch. The dock was full our second night in Walters Cove, BC, but Jaga was flying a Seven Seas Cruising Association burgee, and Scot was single-handing, so we invited him to raft up to us. We saw them off and on again all the way down the coast until we left them at Ucluelet.
---
Dave and Marcia of s/v Juniata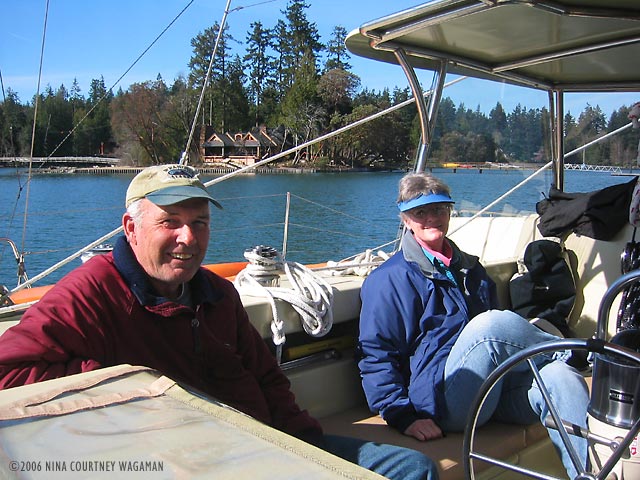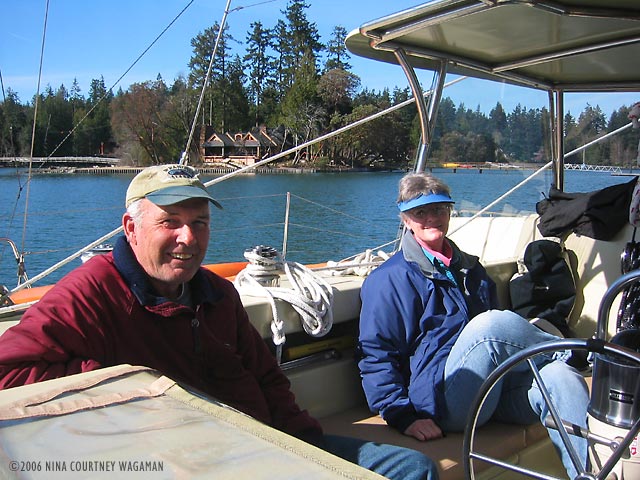 We first saw Juniata in Bull Harbour, BC, and we came around Cape Scott and spent the night in Sea Otter Cove with her too. We didn't actually meet Dave and Marcia until Klaskino Inlet, though. They too are from California: Colfax. It was a fun surprise when Juniata pulled in at Emery Cove while we were there. Perhaps we'll see Dave and Marcia in Mexico too.
Dave and Marcia told us about the SSB nets they participated in, and because of that, we were able to prove that our transmissions weren't carrying.
---
Mike and Susie Bostrom
Mike and Susie were our dock neighors in Sointula, BC. Mike is a commerical fisherman, and their boat is Northern Bounty. Susie owns the general store and post office at Walters Cove (Kyuquot). John took notes of their recommendations of where to fish on the west coast of Vancouver Island. We credit John's fishing success to their advice. Also, if we hadn't met Mike and Susie, we might have missed Walters Cove. It was one of our favorite places on the west coast.
---
Glyn and Dianne Clark
We met these lively, globetrotting Brits over a glass or two of wine one evening in Westview, BC. They delighted us with tales of their travels and invited us to get in touch with them when we get to the UK. As much as they travel, it seems unlikely that they'll be home when we get there, but I've kept their phone number and e-mail address.
---
John and Jeri Auty of s/v Journey
We first met Journey at the dock in Princess Louisa Inlet. Later we rafted up with them in Westview. It was only a few days, but we really enjoyed visiting with John and Jeri. When we saw them later in Douglas Bay, John quickly invited them to dinner on Solstice. John and Jeri provided a wealth of information about the Broughtons as they were just returning from their first trip there. Their favorites — Lagoon Cove and Kwatsi Bay — turned out to be the only two marinas we visited there.
John and Jeri have since sold Journey, but they're still boating — now on a power yacht. We saw them in Half Moon Bay a few years ago, and Shirlee and Jeri are friends on Facebook.
---
Other Sceptre owners
The first ones we really talked with were Ziggy and Davey of Kiana, who anchored near us in Ganges. They've been around the world — we're impressed.
In Montague Harbour the owners of Airmanship stopped by, told us about an upcoming Sceptre fun race, and advised us how to get up the Fraser River.
While we were on the hard, we were surrounded by other Sceptres, and many owners stopped by. Most notable, of course, are Kim and Larry Moore of Magenta, who gave us the two-fer coupon for the symphony. We talked with them quite a lot. We met other owners there too, but the names didn't stick long enough to get them written down in all the furor.
In Gorge Harbour Twowowie anchored next to us, and we met Bob and Heather from Calgary.
Ray and Charlene on Shimmering were anchored in Lagoon Cove when we arrived. We'd met them briefly when we were on the hard, but it was nice to see them again and make note of their names this time.
At Shelter Bay, Panama, we saw Sceptre sail #1, Glide, on the hard. Unfortunately, we left before her owner returned, but we did exchange e-mail.
We followed the voyage of Saeta from Santa Cruz on their blog. Richard and Andrea Black headed south and through the canal a year ahead of us and wintered in North Carolina. We crossed the Atlantic at the same time and finally met at Lajes das Flores, Azores. They're headed to Spain and the Mediterranean. Maybe they'll still be there when we get there. Their photo and a little more about them is in the Midatlantic Meet-up section.
---
David, Marcy, and Franz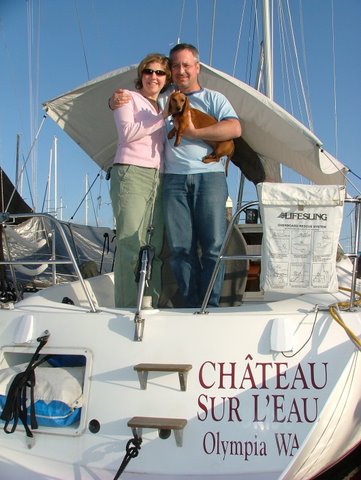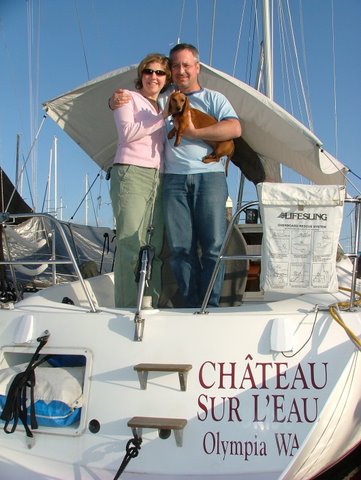 Franz is a miniature dachshund, so of course, we met him first. He and his people, David and Marcy, live aboard at Swantown Marina.
When we weren't discussing dachshunds, we talked a lot about cruising. Marcy and David are thinking about it, but they're still in the find-the-right-boat stage. They're young yet, so they have plenty of time. Marcy is a dietician and David is a physician.
We had a lot of fun with these people. Marcy has a great laugh, and she's the one who told us about the Procession of the Species. We hope we see them again someday.
Marcy stopped by the loft in 2011, right after we moved in. She was our first guest, and it was good thing she's a sailor because the place was still largely unfurnished. It was so much fun to have company ashore.
---
Jim and Debra Semrau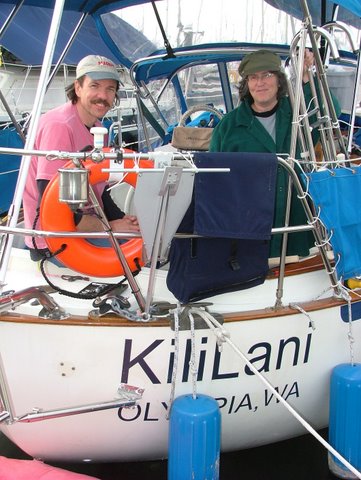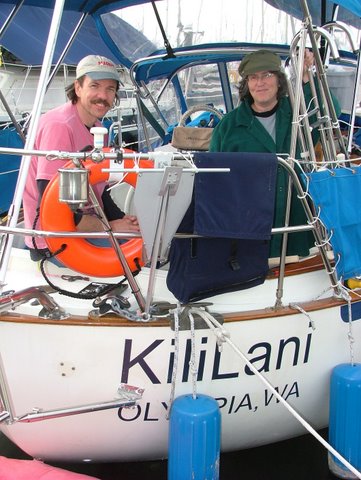 KiliLani is the 34-foot Pacific Seacraft that shared the finger with us at Swantown Marina. Jim and Debra showed up every weekend to work on her and get her ready to carry them on their dream — a few years of cruising.
We really admire their dedication and hard work! It was usually cold and rainy, but that didn't stop Jim or keep his work indoors. One rainy Saturday night, we invited them over for dinner. John's homemade chicken noodle soup seemed appropriate. And it was really fun when they recipricated a couple of weeks later. The interior of their boat is especially beautiful.
Jim and Debra sailed to Alaska in the summer of 2007 and had planned to join the Baja Ha-Ha. Early storms and a late departure from the Pacific Northwest kept Kililani in Newport, Oregon, for the winter. Jim and Debra, ever resourceful, bought a camper and visited Mexico in their land yacht. Unfortunately, we weren't able to meet up with them again.
---
Roger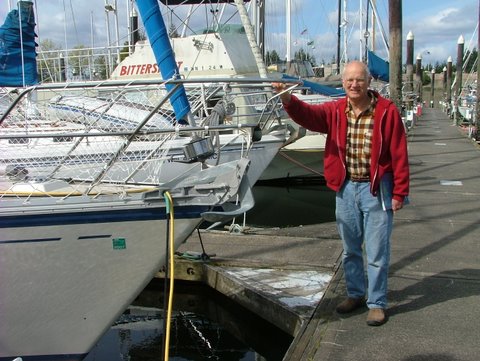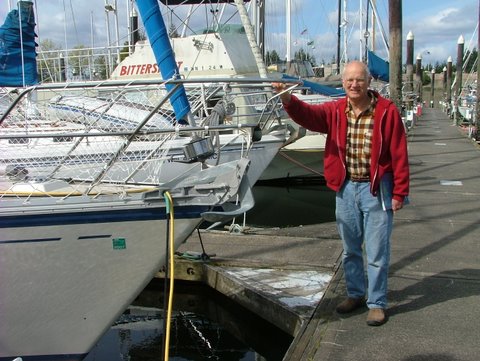 Although we talked with Roger often, we never did get his last name or the name of his boat.
Roger drove us to the Amateur Radio test in Olympia in April. There he and John got their general licenses, and I got my technician's.
Roger's planning to circumnavigate Vancouver Island this summer, so the chances are good that we'll see him again — and maybe even meet his wife and grandkids. We'll try to get his last name and the name of his boat then.
---
Lenny Mason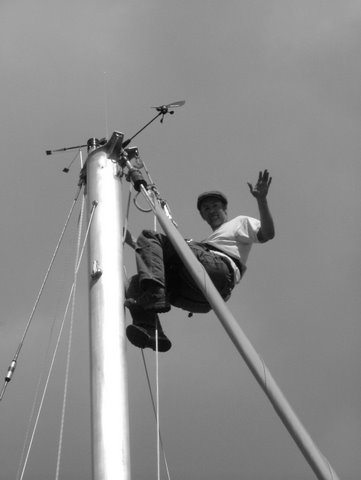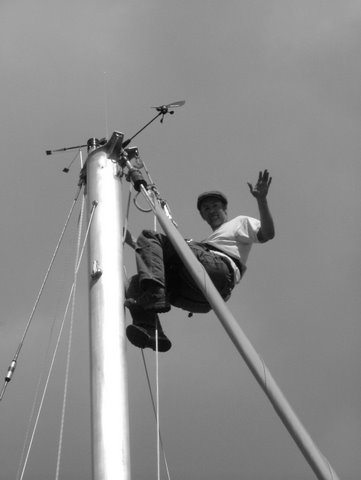 When we finally got a nice day, I went out to scrub down the deck. While I was out there, John and I both noticed a rigger at the top of a mast down the dock, and John asked me to flag him down and see if he would do some work for us. That was Lenny.
Lenny did finally do a little work for us, but more importantly, we got to be friends. We hope that he and his partner, Beth, will join us for a leg or meet up with us in Mexico. They do like to escape to the south in the winter.
(John didn't realize the camera was set to black-and-white when he got this shot, and we couldn't afford a do-over.)
---
The Pattersons and Gordon
Within a few days of our arrival at the Foss Waterway Marina in Tacoma, WA (September 2006), a boat came into the slip across from us. We gave them a hand with the lines and then hung around to visit a little. The boat was Island Heart with skipper Stan Patterson and friend Gordon Medley aboard. They had just delivered Island Heart from Anacortes to her new home in Tacoma. The Pattersons (Stan, Penny, and son Christian) were moving from Florida to Washington to live on their boat. Gordon lives in Olympia.
To the Pattersons, we were old hands at living aboard – after all, we'd been doing it for almost a year. It was fun to have neighbors we knew, even if it was only for a month before we moved to Olympia. Island Heart is on the waiting list for a live-aboard slip here at Swantown (as of March 2007), and we hope their time comes soon.
Gordon deserves a special mention. People often offer us rides because they know we don't have a car. We don't usually take them up on it. However, we did call Gordon when I needed to get to the train to go to Portland for my surgery. Thanks, Gordon! That ride was greatly appreciated.
---
Washington State Park rangers
We were moored at Bowman Bay in Deception Pass State Park when Märzen swallowed John's chicken-heart-covered fishing hook. It didn't bother her, but we were pretty worried. John rowed us ashore and we called the park rangers. All we were asking for was information about taxi companies and emergency vets. Instead, one ranger came and picked us all up and took us to the park headquarters where another employee met us and drove us into Mt. Vernon to the emergency vet. Those guys were the greatest! Märzen is fine. The vet put something in her eyes that made her throw up the whole thing. We also learned that, in the event of dogs swallowing hooks, you should leave about 20 feet of line attached.
---
Shelli Hooten
We were provisioning in Port Townsend when we met Shelli and her daughter, Hanna. I'd made a run to the store on the bike while John was taking care of other tasks. Impressed with how easily I'd been able to pedal Märzen in the folding basket on the back of the bike, I got carried away loading the basket with mundane canned goods for the boat. When I tilted the bike slightly to mount, the heavy basket flipped the bike and spilled its contents in the gutter. Shelli was just heading into the store and saw the whole thing. She immediately offered a ride to me, my shopping, and my bike. I wasn't ready to give up, but I agreed that I'd take her up on the offer if I was still there when she had finished her shopping.
Well, I was still there, and Shelli took part of the load and followed me to the marina. We met John there, and the four of us lugged the groceries to the boat. (Shelli insisted that they help all the way.) All we could offer in return was a tour of Solstice and some photos of orcas.
---
Frank of s/v Queen
When we docked at Noyo River to rest and wait for a weather window for Cape Mendocino northbound, we met Frank. Frank had retired from commercial fishing and purchased a beautiful classic ketch, Queen. He was preparing to head south as we were making our way north. He gave us tips for rounding Cape Mendocino, and we both felt more confident for having a plan. We hope we'll meet up with Frank again when we get south of the border
---
Steve and Lana Benson
We met Steve Benson one morning in Oakland while we were at British Marine. I'd taken Märzen to shore and was startled to see a military guy in full camo uniform carefully examining the boat basin. He started asking me general questions about the boats and then specific ones about our boat. It turned out that his dream was to go sailing around the world someday. I took Steve to Solstice to meet John, and we arranged to take him and his wife, Lana, for a day sail after we got the engine back.
It took us a long time to use all of the supplies that Steve and Lana brought us for that day sail. We had a great time listening to Steve's stories, and we were happy to give them their first sail ever. Steve is a master sargeant in the Special Forces (Airborne), and when we met, they were being transferred to the Tacoma area, so we said we'd be in touch when we sailed north.
Steve was one of the first people we heard from when we published the website. He continues to be amazingly generous. He came and picked us up in Gig Harbor to take us to dinner at their place, and he and Lana took care of Märzen when we went to Portland to see the doctor about my hip. (Märzen gets along pretty well with their two basset hounds.) We are enjoying the chance to spend more time with them while we're here in the Puget Sound. A photo of them is included on the crew page.
Here's Lana and her sailboat dance. Lana created this dance on a weekend sail in South Puget Sound.
---
Andy and Monica Carberry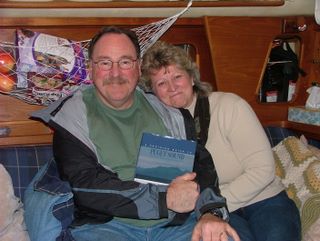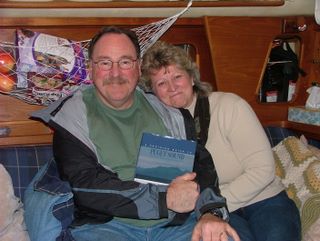 Andy and Monica first visited us on Solstice at the Elliot Bay Marina in Seattle—before we even made the delivery to San Francisco. John and Andy met when they were working on the CSAA project in San Francisco, a source of several of our friends. When I started this page, I wasn't including friends we made while living on land, but the Carberrys are an exception because they live near Gig Harbor, and we've visited with them both times we were there.
The Carberrys were so generous to us in the fall of 2006 when we were in Gig Harbor. They invited us to dinner at their new home overlooking Colvos Passage and Vashon Island. Of course, they had to come and get us since we don't have a car. And Monica said to be sure to bring our laundry, so I did. Andy does the cooking for them just as John does for us, and it was a great meal. It ended with ice cream because they knew that would be something we wouldn't have on the boat.
Now that we're at home in Waldport, we hope Andy and Monica will visit us so we can return their hospitality.